Air Power Series>1:72 die-cast display model>A-4>HA1427
Douglas A-4C Skyhawk "MIG-17 Killer" BuNo 148609, VA-76, USS Bon Homme Richard, 1st May, 1967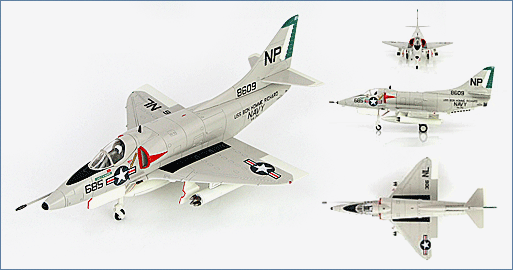 General Background
The A-4 Skyhawk is one of the most successful attack aircrafts ever built. This smallest jet aircraft ever deployed on a carrier was the product of Douglas's Chief Engineer Ed Heinnemann in the 1952. This was the time when a more lightweight aircraft was in demand to fit into those post-war vintage carriers.

The Skyhawk was extensively used during the Cold War period and the Vietnam War by the Navy and the Marines. Because of its small size and powerful performance, the A-4 was also known as the "Heinnemann's Hot Rod". A total of 2, 960 of Skyhawk were built and many of them were exported to other countries.
The Aircraft
Douglas A-4C Skyhawk 148609 c/n 12802 was delivered to VA-64 in 1961. After spending time with VA-64 and VA72 148609 was assigned to VA-76 "Spirits" in 1964 as NP-685. VA-76 was deployed to Vietnam on board the USS Bon Homme Richard when on May 1, 1967 LCDR Ted "T.R." Swartz flying 148609 shot down a MiG-17 over North Vietnam with an unguided Zuni missile making this the only time a Skyhawk scored an air-to-air victory during the Vietnam War. 148609 was lost in June 1972 after a mid-air collision.
Specifications :
| | |
| --- | --- |
| Crew: | 1 Pilot |
| Dimensions |   |
| Length: | 40 ft 3 in |
| Height: | 14 ft 11 in |
| Wingspan: | 27 ft 6 in |
| Weight |   |
| Empty Weight: | 10,450 lbs |
| Gross Weight: | 24,500 lbs |
| Loaded: | 18,300 lbs |
| Powerplant: | 1 x Wright J-65-W-20 non-afterburning turbojet, 8,200 lbs. of thrust |
| Performance |   |
| Combat Radius: | 1,000 miles |
| Max. Speed: | 673 mph |
| Ferry Range: | 4 2,130 miles |
| Service Ceiling: | 42,250 ft |
| Maximum Rate of Climb: | 8,440 ft/min |