Air Power Series>1:72 die-cast display model>T-6>HA1506
LT-6G 6148 Tactical Control Squadron (Airborne), LTA-542, Korea 1953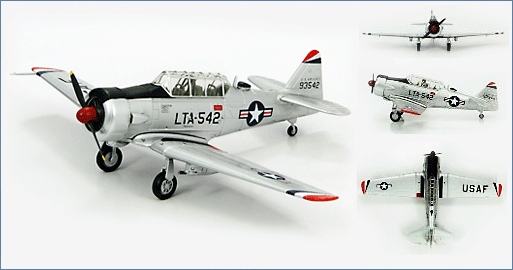 General Background
The T-6 trainer was one of the most important aircrafts of all time. It was used by 34 countries with a total of 17,096 built. An estimation of over 100,000 U.S. military pilots flew these aircraft.

It was in late 1930's North American Aviation began to deliver the T-6 Texan for the USAAF and the SNJ version for the USN. The Texan got its name because of production in the Dallas, Texas plant of North America. It was known as the "Harvard" for those built in Canada.

Though basically built as a trainer aircraft, the T-6 was used in multiple roles include interceptor, fighter bomber and counter-insurgency (COIN) aircraft during the conflicts of WWII, the Korea War and the Vietnam War. It was also extensively used by the civilians for different purposes.Despite all these, T-6 was still best known as a universal trainer - the Pilot Maker.
The Aircraft
6148 was one of two airborne Tactical Control Squadrons in Korea assigned to conduct reconnaissance, control air strikes for close support of ground troops and strikes on enemy targets. "Night Train" was one of the LT-6G aircraft specially built for this mission with powerful radios, armed with 6 under-wing racks with triple rocket launchers and two .30 caliber machine gun pods. The 2 squadrons, referred to as "Mosquito" flew 40,354 sorties and lost 33 men and 42 aircraft out of the 97 built.
Specifications :
| | |
| --- | --- |
| Crew: | 2 X pilot, co-pilot radio/operator |
| Dimensions: |   |
| Length: | 29 ft (8.84 m) |
| Wing Span: | 42 ft (12.81 m) |
| Height: | 11 ft 8 in (3.57 m) |
| Wing area: | 253.7 ft2 (23.6 m2) |
| Weight: | 750 mi. |
| Empty weight: | 4,158 lb (1,886 kg) |
| Loaded weight: | 5,617 lb (2,548 kg) |
| Engine: |   |
| Powerplant: | 1× Pratt & Whitney R-1340-AN-1 Wasp radial engine, 600 hp (450 kW) |
| Performance: |   |
| Maximum speed: | 208 mph at 5,000 ft (335 km/h at 1,500 m) |
| Cruise speed: | 145 mph (233 km/h) |
| Range: | 730 miles (1,175 km) |
| Service ceiling: | 24,200 ft (7,400 m) |
| Armament: | 6 under-wing racks with triple rocket launchers and two .30 caliber machine gun pods or light bombs |