Air Power Series>1:72 die-cast display model>T-6>HA1523
AT-16 Harvard U-331, Swiss Air Force, 1960s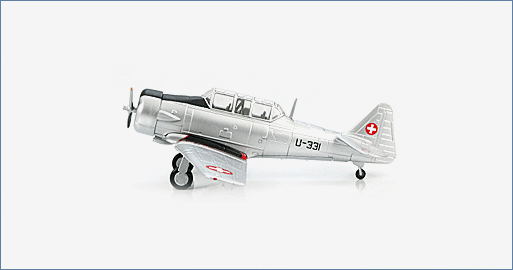 General Background
The T-6 trainer was one of the most important aircrafts of all time. It was used by 34 countries with a total of 17,096 built. An estimation of over 100,000 U.S. military pilots flew these aircraft.

It was in late 1930's North American Aviation began to deliver the T-6 Texan for the USAAF and the SNJ version for the USN. The Texan got its name because of production in the Dallas, Texas plant of North America. It was known as the "Harvard" for those built in Canada.

Though basically built as a trainer aircraft, the T-6 was used in multiple roles include interceptor, fighter bomber and counter-insurgency (COIN) aircraft during the conflicts of WWII, the Korea War and the Vietnam War. It was also extensively used by the civilians for different purposes.Despite all these, T-6 was still best known as a universal trainer - the Pilot Maker.
The Aircraft
In 1948 Switzerland bought forty-surplus Canadian built AT-16 Harvard IIBs serial U-331 was ex-RAF FE449. These were used as advanced trainers with the rear cockpit capable of being completely covered making it necessary for the trainee to rely on his instruments. Of the original 40 aircraft 5 were lost to accidents but one was rebuilt and is on display at the Swiss Air Force Museum in Dubendorf. Five were sold to Austria and Great Britain with the remainder being scrapped and the engines sold to the U.S.
Specifications :
| | |
| --- | --- |
| Manufacturer: | North American Aviation |
| Purpose: | Originally an Advanced Trainer |
| Powerplant: | 600 HP Pratt and Whitney R-1340-AN-1 |
| Length: | 29 ft.  6 in. |
| Wing Span: | 42 ft. |
| Height: | 11 ft. 9 in. |
| Maximum Speed: | 205 MPH |
| Cruising Speed: | 170 MPH |
| Service Ceiling: | 21,500 ft. |
| Range: | 750 mi. |
| Weight: | Empty 4,158 lb. / Maximum 5,300 lb. |
| Average Fuel Consumption: | 30 GPH |
| Armament: | Allowance made for 1 x 0.30 in. (7.62 mm) Machine Gun |