Air Power Series>1:72 die-cast display model>F-4>HA19018
McDonnell Douglas F-4E Phantom II 60-499, ROKAF, South Korea, October 2019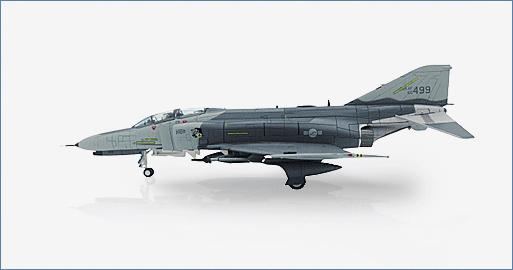 General Background
The F-4E variant was an improved version of the C/D with an elongated nose and compact radar. These two things made it possible to install a 20mm M61A1 6 barrel 640 round Vulcan gun pod in the nose. The F-4E was the most produced variant with 1387 aircraft being made over its 12 year production period. The "E" also equipped more air forces than any other variant of the Phantom II.
The Aircraft
In the 1970s South Korea felt a possible security risk from North Korea so they decided to acquire Northrop F-5Es and McDonnell Douglas F-4Es to bolster their defense capabilities as a deterrent to aggression. Ex-USAF F-Ds were procured in the late 1960s and in 1978 the first of the new built F-4Es began to arrive. F-4E 60-499 c/n 4972 was originally assigned to the 152nd / 17th FW at Cheongju. In 2019 this aircraft was assigned to the 153 Fighter Squadron at Suwon Air Base.

Around 2008 the RoKAF began to reduce its reliance on the Phantom and replacing them with the new F-35.
Specifications :
| | |
| --- | --- |
| Dimensions | |
| Length: | 17.7m |
| Height: | 4.7m |
| Wingspan: | 11.6m |
| Wingarea: | 49.2 sq m |
| No. of Engines: | 2 |
| Powerplant : | General Electric J79-GE-10 (A/B 17,900Lb/8,119Kg) |
| Performance | |
| Range: | 2,222 km |
| Cruise Speed: | 908 km/h |
| Max Speed: | 2,299 km/h |
| Climb: | 12,572 m/min |
| Ceiling: | 16,672 m |