Air Power Series>1:72 die-cast display model>F-4>HA19028
F-4E "Gunsmoke '89 Competition" 74-1040 "TX", ,704 TFS, Nellis AB, 1989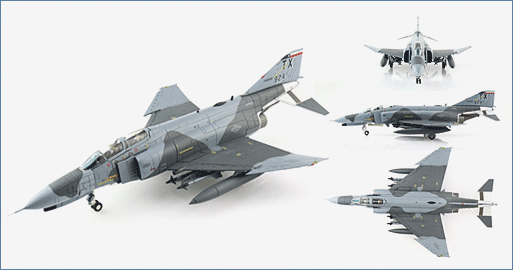 General Background
The F-4 Phantom II first entered US Military service in 1960. It was designed as a fleet defense fighter for the US Navy but by 1963 it was adopted as the US Air Force primary fighter-bomber. Despite the size and weight of this Cold War icon the F-4 broke 15 world records and continued to hold five of them until 1975.

Produced from 1960 to 1981 there were 5,195 Phantom IIs manufactured. Eleven countries other than the USA had the Phantom II in their inventory.
The Aircraft
The "Gunsmoke" competition is designed to show the skills of USAF air and ground crews in an air-to-ground mission. This is a test of how fast, safe and accurately air and ground crews can load and turn around an aircraft so it can resume air operations. There were 16 teams involved in the competition that took place at Nellis AFB, Nevada between September 29, 1989 and October 16, 1989. Representing the 704th TFS/ 924th TGF AFRES from Bergstrom AFB, Texas was F-4E 74-1040. In 2006 74-1040 was destroyed in a missile test.
Specifications :
| | |
| --- | --- |
| Dimensions | |
| Length: | 17.7m |
| Height: | 4.7m |
| Wingspan: | 11.6m |
| Wingarea: | 49.2 sq m |
| No. of Engines: | 2 |
| Powerplant : | General Electric J79-GE-10 (A/B 17,900Lb/8,119Kg) |
| Performance | |
| Range: | 2,222 km |
| Cruise Speed: | 908 km/h |
| Max Speed: | 2,299 km/h |
| Climb: | 12,572 m/min |
| Ceiling: | 16,672 m |