Air Power Series>1:72 die-cast display model>Kate>HA2003
Nakajima B5N2 Zuikaku second wave attack, Pearl Harbor, Dec 1941 "EII-307"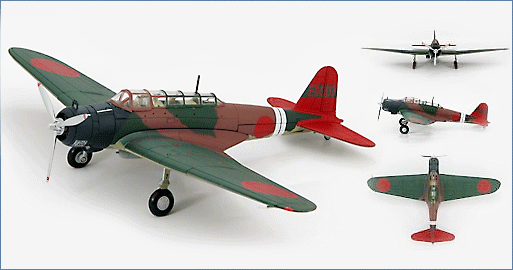 General Background
When Japan entered WWII the B5N Kate was the standard torpedo bomber and sank more Allied ships than any other type of Japanese aircraft. B5N2's played the main role in sinking the carrier Lexington at Coral Sea,Yorktown at Midway and Hornet at the Battle of Santa Cruz in October 1942. There were 1,150 B5N1 and B5N2 Torpedo Bombers produced but by 1944 the Kate had been replaced by the B6N "Jill". The Kate ended its service being used for Kamikaze attacks leaving no surviving examples.
The Aircraft
On December 7, 1941 as part of the inventory on the aircraft carrier Zuikaku "Lucky Crane" was 27 B5N2 Kates. These aircraft wore the identification markings EII on their tail and 2 white stripes around the fuselage aft section. The Kates were loaded with bombs only and aircraft EII-307 was manned by PO1c T. Kawada (pilot), Ens. Kazumasa Kaneda (observer – bomber) and Sea1c E. Shinoda (radio operator). Their mission was to be part of the second wave to attack Pearl Harbor with the airfields and more ships as their targets.
Specifications :
| | |
| --- | --- |
| Crew: | 3 (pilot, observer, radio operator) |
| Dimensions |   |
| Length: | 33ft 10in (10.30 m) |
| Wingspan: | 50ft 11in (15.52m) |
| Height: | 12ft 2in (3.70m) |
| Wing area: | 406ft2 (37.7m2) |
| Weight |   |
| Empty weight: | 5,024lb (2,279kg) |
| Loaded weight: | 8,380lb (3,800kg) |
| Maximum take off weight: | 9,040lb (4,100kg) |
| Power-plant: | 1 X Nakajima Sakae 11 radial engine - 1,000hp (750kw) |
| Performance |   |
| Maximum speed: | 229mph (367 km/h) |
| Range: | 1,202mi (1,935km) |
| Service ceiling: | 27,100ft (8,260m) |
| Rate of climb: | 1,283ft/min (6.5m/s) |
| Wing loading: | 21lb/ft2 (101kg/m²) |
| Power/mass: | 0.12hp/lb (0.20kw/kg) |
| Armament |   |
| Guns: | 1 X dual flexible 7.7mm in the rear cockpit. |
| External stores: | 1 X 1764 lb (800-kg) torpedo or 3 X 551-lb (250-kg) bombs |