Air Power Series>1:72 die-cast display model>Kate>HA2014
B5N2 Type 97 "Kate" AII-3II, Lt. Ichiro Kitajima, IJN Carrier Kaga, Dec 1941 "Pearl Harbor first wave attack"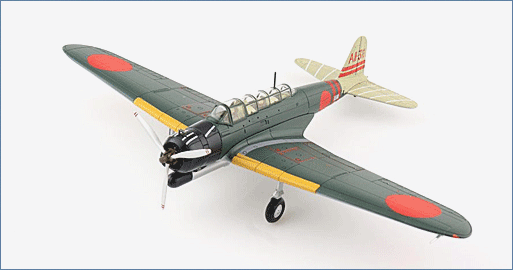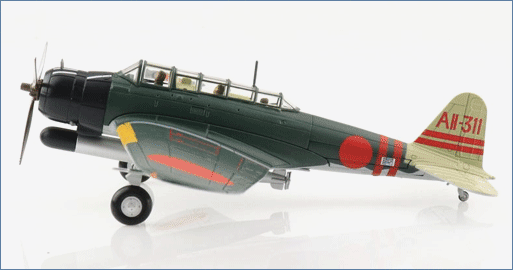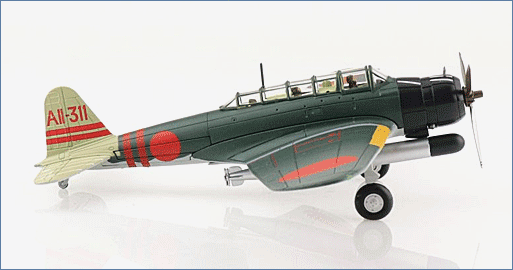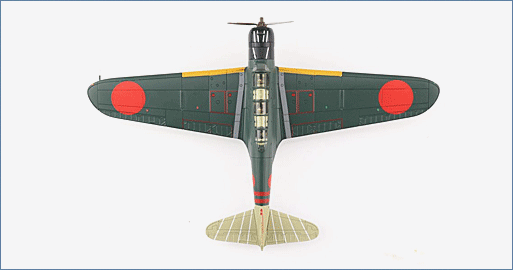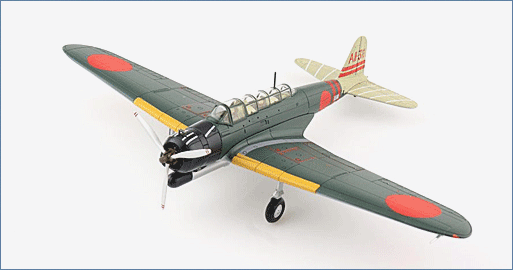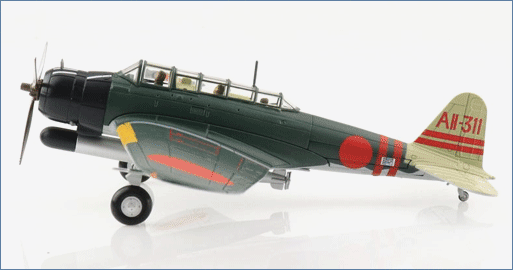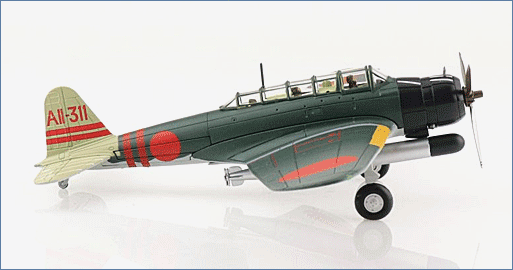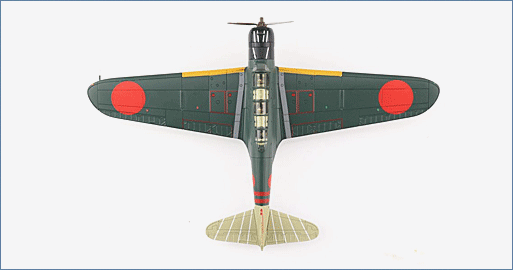 General Background
When Japan entered WWII the B5N Kate was the standard torpedo bomber and sank more Allied ships than any other type of Japanese aircraft. B5N2's played the main role in sinking the carrier Lexington at Coral Sea,Yorktown at Midway and Hornet at the Battle of Santa Cruz in October 1942. There were 1,150 B5N1 and B5N2 Torpedo Bombers produced but by 1944 the Kate had been replaced by the B6N "Jill". The Kate ended its service being used for Kamikaze attacks leaving no surviving examples.
The Aircraft
In the first wave attack on Pearl Harbor on December 7, 1941 the group leader of the Japanese aircraft carrier Kaga was Lt. Ichiro Kitajima flying his Nakajima B5N2 torpedo bomber AII-3II. In all 40 B5N1 Kates and 49 B5N2 Kates took part in the initial raid with 54 more B5N2s arriving in the second wave along with 26 Aichi D3A Val dive bombers. When it was over Japan had sunk the USS Arizona, USS Oklahoma, USS West Virginia and USS California, USS Nevada sinking.
Specifications :
| | |
| --- | --- |
| B5N1 and B5N2: | |
| Dimensions |   |
| Length: | 33ft 10in (10.30 m) |
| Wingspan: | 50ft 11in (15.52m) |
| Height: | 12ft 2in (3.70m) |
| Weight: | |
| B5N1: |   |
| Empty weight: | 4,643 lb (2,106 kg) |
| Loaded: | 8,157 lb (3,700 kg) |
| B5N2: |   |
| Empty weight: | 5,024 lb (2,279 kg) |
| Loaded: | 8,378 lb (3,800 kg) |
| Engine: |   |
| B5N1: | Nakajima Hikari 3, 770 hp, 9-cylinder, air-cooled radial |
| B5N2: | Nakajima NK 1B Sakae 11, 1,000 hp, 14-cylinder, air-cooled radial |
| Performance: | |
| B5N1: | |
| Maximum Speed: | 229 mph @ 6,560 ft (2,000 m) |
| Service Ceiling: | 24,280 ft (7,400 m) |
| Normal Range: | 679 miles (1,092 km) |
| Maximum Range: | 1,404 miles (2,259 km) |
| B5N2: | |
| Maximum Speed: | 235 mph @ 11,810 ft (3,600 m) |
| Service Ceiling: | 27,100 ft (8,260 m) |
| Normal Range: | 608 miles (978 km) |
| Maximum Range: | 1,237 miles (1,990 km) |
| Armament |   |
| B5N1 and B5N2: | 1 x flexible rear-firing 7.7 mm Type 92 machine gun |
| | Bombs – 1,764 lb (800 kg) |
| | Or 1 x 1,764 lb (800 kg) torpedo |