Air Power Series>1:72 die-cast display model>F-100>HA2115
F-100A Super Sabre 0218 (sn 53-1589), ROCAF, 1980s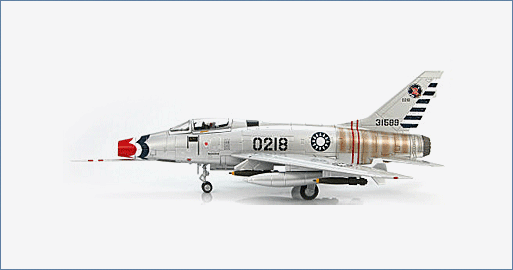 General Background
The North American F-100 Supersabre served the USAF from 1954 to 1971 and the ANG until 1979. The F-100 commonly referred to as the "Hun", a shortened version of "one hundred" was the first US fighter capable of attaining supersonic speed in level flight. The Hun was used extensively as close-air-support in South Vietnam.
The Aircraft
Ex-USAF F-100A Super Sabre 53-1589 c/n 192-84 once flew with the 162nd FG and then the 152nd TFS/AZ ANG. In March 1966 the aircraft arrived at AMARC and was stored until February 1970 when it was shipped to North American in Inglewood, CA. Here it was updated and made airworthy before being sent to the RoCAF in Taiwan and marked as 0218. In 1987 the Taiwan Defense Department donated the aircraft and it is on display at the National Taiwan University, Chengkungling.
Specifications :
Role:
Designed as a single-seat day time air superiority fighter
Dimensions:
Length:
47ft 1.25in (14.3 m)
Height:
15ft 6in (4.7 m)
Wing span:
38ft 10in (11.8 m)
Wing area:
385 sq. ft (35.76 sq. m)
Weights:
 
Empty:
18,185 lb (8,247 kg)
Maximum:
32,500 lb (14,739 kg)
Performance:
Engine:
Pratt & Whitney J57-P-7 (A/B 14,800Lb) / thrust 9,700 lb (4,399 kg)
Fuel:
Internal fuselage tanks:
1294 gallons (4898.32 L)
External drop tanks:
2 X 275 gallons each (1040.98 L each)
Speed:
Cruise:
587 mph 947 km/h (512 kt)
Maximum:
848 mph 1,369 km/h (740 kt)
Climb rate:
23,800 ft/min (7,253 m/min)
Ceiling:
Service:
44,900 feet (13685.52 m)
Combat:
51,000 ft (15,544 m)
Range:
Normal:
358 miles (576.14 km)
Maximum:
1294 miles (2082.49 km)
Armament:
4 X 20-mm Pontiac M-39 cannon in lower fuselage below the cockpit /
200 rounds per gun, RoF 1,500 rpm – muzzle velocity 3,300 fps.
2 X under-wing stations for bombs as large as 1000 pounds (373.24 kg).