Air Power Series>1:72 die-cast display model>SB2C>HA2202
SB2C-3 Helldiver VB-18, USS Intrepid, Oct. 1944 "sinking Musashi"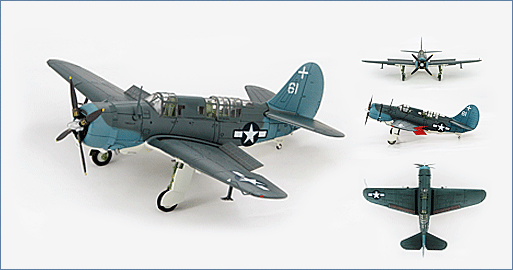 General Background
The SB2C was designed to replace the SBD Dauntless. When the Helldivers were first delivered they were so poorly manufactured that some broke in half on landing and wings fell apart in a dive. Some countries cancelled orders and the USAAF never used the 900 they received. Eventually after over 800 modifications and technical changes the Helldiver went on to become one of the most effective dive-bombers of WWII. Most people referred to the plane as "The Big Tail Beast" or just "The Beast".
The Aircraft
On October 24, 1944 a fleet of 29 Japanese warships heading toward Leyte Gulf were detected by the US Navy. The USN launched air-strike after air-strike in an attempt to stop the fleet. One of the first groups sent was VB-18 with 12 SB2C-3s from the USS Intrepid along with her Avengers and Hellcats. It took six strikes throughout the day to sink the battleship Musashi, one cruiser and damage many other ships. When the day ended VB-18 had lost five of their twelve SB2C-3s.
Specifications :
| | |
| --- | --- |
| General data | |
| Manufacturer: | Curtiss-Wright |
| Crew: | 2 X 1 pilot, 1 radio operator/gunner |
| Dimensions | |
| Length: | 36 ft 9 in (11.2 m) |
| Wingspan: | 49 ft 9 in (15.2 m) |
| Height: | 14 ft 9 in (4.5 m) |
| Wing area: | 422 ft² (39.2 m²) |
| Weights | |
| Empty: | 10,114 lb (4,588 kg) |
| Loaded: | 13,674 lb (6,202 kg) |
| Max takeoff: | 16,800 lb (7,600 kg) |
| Performance | |
| Powerplant: | 1× Wright R-2600 Cyclone radial engine, 1,900 hp (1,400 kW) |
| Maximum speed: | 294 mph (473 km/h) |
| Range: | 1,200 miles (1,900 km) |
| Service ceiling: | 25,000 ft (7,600 m) |
| Rate of climb: | 1,750 ft/min (8.9 m/s) |
| Armament: | 2 x .50 cal (20 mm) cannon in each wing |
| | 2 x 0.30 in (7.62 mm) machine guns in the rear cockpit |
| | Internal bay - 2,000 lb (900 kg) of bombs or 1x Mark 13-2 torpedo |
| | Hardpoints: 500 lb (225 kg) of bombs each wing |