Air Power Series>1:72 die-cast display model>SB2C>HA2207
SB2C-4 Helldiver VB-83, USS Essex, 1 April 1945 "white 207"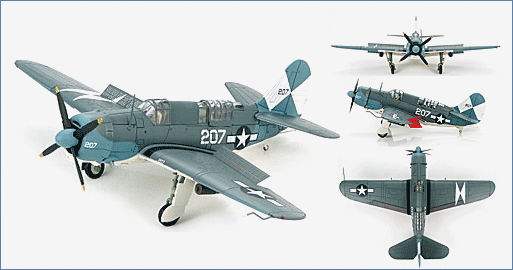 General Background
The SB2C was designed to replace the SBD Dauntless. When the Helldivers were first delivered they were so poorly manufactured that some broke in half on landing and wings fell apart in a dive. Some countries cancelled orders and the USAAF never used the 900 they received. Eventually after over 800 modifications and technical changes the Helldiver went on to become one of the most effective dive-bombers of WWII. Most people referred to the plane as "The Big Tail Beast" or just "The Beast".
The Aircraft
In early 1945 USS Essex and her aircraft became part of Operation Iceberg, the invasion of Okinawa. The battle lasted a total of 82 days from April 1, 1945 until June 22, 1945. VB-83 Helldivers and VT-83 Avengers were tasked with shipping strikes, anti- submarine patrols and ground support of troops. On April 5, 1945 VB-83 Helldivers and VT-83 Avengers were heavily involved in sinking one of the two largest battleships in the world, Yamato.
Specifications :
| | |
| --- | --- |
| General data | |
| Crew: | 2 X 1 pilot, 1 radio operator/gunner |
| Dimensions | |
| Length: | 36 ft 7 in (11.18 m) |
| Wingspan: | 49 ft 7 in (15.16 m) |
| Height: | 13 ft 2 in (4.01 m) |
| Weights | |
| Empty: | 1,057 lb (7535 kg) |
| Max takeoff: | 16,616 lb (7,537 kg) |
| Performance | |
| Engine: | 1× Wright R-2600 Cyclone radial engine, 1,900 hp (1,417 kW) |
| Speed: | Cruise / 158mph (254km/h) (137kts) |
| Maximum Speed: | 295mph (475km/h) (256kts) |
| Rate Of Climb: | 1,800ft/min (548m/min) |
| Service Ceiling: | 29,100ft (8,869m) |
| Range: | 1,165miles (1,876km) |
| Armament: | 2 X 20mm fixed wing cannon or 4 X 0.50 caliber fixed wing machine guns |
| | 2 X 0.30 caliber rear cockpit machine guns or 1 X 0.50 caliber flexible rear cockpit |
| | Bomb Load- 1 X torpedo or 1,000 pounds of bombs in the bay or 4 X depth charges |
| | Also capable of carry an additional 1,000 pounds of bombs or 8 X 5inch rockets under the wings. |