Air Power Series>1:72 die-cast display model>Beaufighter>HA2302
Bristol Beaufighter Mk.1F R2101/NG-R "Flt Lt John Cunningham"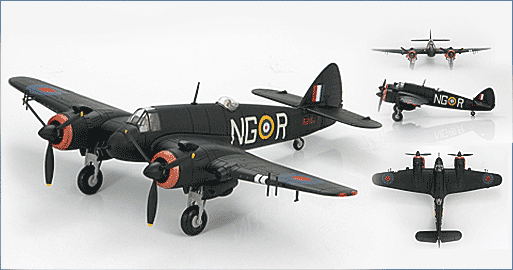 General Background
The Bristol Beaufighter was designed as a two-seat long-range fighter. To speed up production many parts of the older Bristol Beaufort were used. The tail, landing gear and wings of the Beaufort were transplanted to the Beaufighter and most units were equipped with airborne radar located in the nose for night-fighting. The Mk. IF was the initial production and fitted with four 20 mm cannons in the nose along with six 7.7 mm machine guns in the wings. There were a total of 553 of the IF version produced.
The Aircraft
604 Squadron "County of Middlesex" began using Beaufighters in September 1940. Initially used to provide night defense, but in 1943 was changed to night intrusion operations. The highest scoring RAF night fighter pilot was John "Cat's Eyes" Cunningham with 20 victories. In 1940 he was the first pilot to shoot down an airplane using radar. To cover that they had radar the British came up with a story that the pilot's could see in the dark and it was all possible because of the vitamin A in carrots.
Specifications :
| | |
| --- | --- |
| Crew: | 2 X (1) pilot (1) radio/radar operator |
| Engines: | 2 X Bristol Hercules XI engines / 1,500 hp |
| Fuel: | 100 octane |
| | Capacity 550 Imp gallons / (660 US gallons) / (2,500 liters) |
| Performance |   |
| Maximum speed: | 321 mph at 15,800 feet / (520 km/h at 4,572 m) |
| ICR: | 1,850 ft/min at sea level / (564 m/min at sea level) |
| Climb to 20,000 ft: | 214 minutes 6 seconds / (6,095 m in 14 min 6 seconds) |
| Ceiling: | 26,500 ft / (8077 m) |
| Range: | 1,170 miles at 5,000ft at 182 mph / (1,883 km at 1.524 km at 292.9 km/h) |
| Dimensions |   |
| Length: | 41ft 8in / (12.6 m) |
| Wingspan: | 57ft 10in / (17.63 m) |
| Height: | 15 ft 10 in / (4.83 m) |
| Wing area: | 503 sq. ft. / (46.73 m2) |
| Weight |   |
| Empty weight: | 14,069 lb / (6,382 kg) |
| Operational: | 21,100 lb / (9,571 kg) |
| Armament: | 4 X 20mm cannon under nose 240 rounds per gun |
| | 6 X .303 machine guns in wings 1000 rounds per gun. |