Air Power Series>1:72 die-cast display model>Beaufighter>HA2305
Bristol Beaufighter Mk.21 A8-116, 93 Squadron, RAAF 1945 "Green Ghost"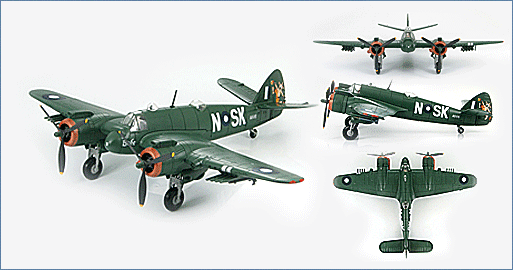 General Background
The Bristol Beaufighter was developed in about 8 months by using sections from the earlier designed Bristol Beaufort. It was given more powerful engines and a variety of modifications making the aircraft capable of many tasks. It was a night fighter, fighter bomber and torpedo bomber performing anti-shipping duty as well as ground attack and long range interdiction. The different variants, 14 in all, were capable of carrying bombs, torpedoes, rockets, canons and machine guns. The Beaufighter was operated by 11 countries.
The Aircraft
The 93rd Squadron was formed on January 22 1945 without an official name or motto. So unofficially it became the "Green Ghost Squadron" and the unofficial motto was "Spookus Sneakinus". Mid 1945 the squadron transferred to an island off Borneo called Labuan. Their task was to disrupt Japanese shipping and airfields. In August 1945 the squadron was tasked with destroying a Japanese oil tanker. The ship was destroyed but turned out to be the 800 ton private yacht of the Rajah of Sarawak. The 93rd Squadron was disbanded on 22 August 1946.
Specifications :
| | |
| --- | --- |
| Crew: | 2 X (1) pilot (1) radio/radar operator |
| Engines: | 2 X Bristol Hercules XI engines / 1,500 hp |
| Fuel: | 100 octane |
| | Capacity 550 Imp gallons / (660 US gallons) / (2,500 liters) |
| Performance |   |
| Maximum speed: | 321 mph at 15,800 feet / (520 km/h at 4,572 m) |
| ICR: | 1,850 ft/min at sea level / (564 m/min at sea level) |
| Climb to 20,000 ft: | 214 minutes 6 seconds / (6,095 m in 14 min 6 seconds) |
| Ceiling: | 26,500 ft / (8077 m) |
| Range: | 1,170 miles at 5,000ft at 182 mph / (1,883 km at 1.524 km at 292.9 km/h) |
| Dimensions |   |
| Length: | 41ft 8in / (12.6 m) |
| Wingspan: | 57ft 10in / (17.63 m) |
| Height: | 15 ft 10 in / (4.83 m) |
| Wing area: | 503 sq. ft. / (46.73 m2) |
| Weight |   |
| Empty weight: | 14,069 lb / (6,382 kg) |
| Operational: | 21,100 lb / (9,571 kg) |
| Armament: | 4 X 20mm cannon under nose 240 rounds per gun |
| | 6 X .303 machine guns in wings 1000 rounds per gun. |