Air Power Series>1:72 die-cast display model>Beaufighter>HA2310
Bristol Beaufighter TF.X NE548, 455 Sqn., RAAF, mid-1944 "UB-E"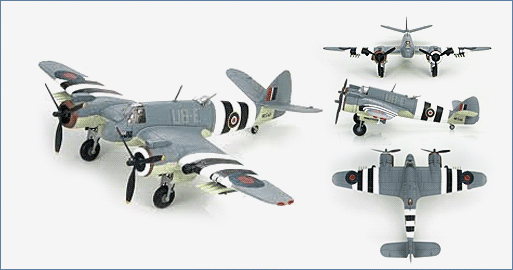 General Background
The Bristol Beaufighter was developed in about 8 months by using sections from the earlier designed Bristol Beaufort. It was given more powerful engines and a variety of modifications making the aircraft capable of many tasks. It was a night fighter, fighter bomber and torpedo bomber performing anti-shipping duty as well as ground attack and long range interdiction. The different variants, 14 in all, were capable of carrying bombs, torpedoes, rockets, canons and machine guns. The Beaufighter was operated by 11 countries.
The Aircraft
No. 455 Squadron RAAF was formed on May 23, 1941 in Williamtown, NSW. Late in 1943 Bristol Beaufighters replaced the aging Hampdens so RAAF 455 Sqn stationed along side the RNZAF 489 Sqn were formed into a strike force and developed new tactics. This force was known as the ANZAC Wing and moved to Langham on April 12, 1944.. From this base the ANZAC Wing conducted operations in an effort to clear the English Channel of German vessels in preparation for D-Day and during the D-Day landings. A photograph was taken of Beaufighter UB-E NE548 firing a salvo of rockets has become the iconic photo of a T.F.X or perhaps of any Beaufighter.
Specifications :
| | |
| --- | --- |
| Dimensions | |
| Wing span: | 57 ft. 10 in. (17.64 m) |
| Length: | 41 ft. 4 in. (12.59 m) |
| Height | 15 ft. 10 in. (4.84 m) |
| Weight |   |
| Empty: | 15,592 lb (7,072 kg) |
| Maximum: | 25,400 lb. (11,521 kg) |
| Disposable Load: | 9,808 lb. (4,448 kg) |
| Performance | |
| Powerplant: | 2 x Bristol Hercules XVII fourteen-cylinder two-row sleeve-valve radial engines |
| | rated @ 1,725 hp (1,286 kw) @ 2,900 rpm for take-off |
| | rated @ 1,395 hp (1,040 kw) @ 2,400 rpm at 1,500 ft. (457 m) |
| Maximum Speed: | @ sea-level - 320 mph (514 km/h) |
| Service Ceiling: | 19,000 ft. (5,791 m) (without torpedo) |
| Range | |
| with torpedo and normal fuel: | 1,400 miles (2,253 km) |
| with torpedo and long-range tanks: | 1,750 miles (2,816 km) |
| Armament: | 4 x 20-mm. Hispano cannon in the fuselage nose |
| | 6 x 0.303-in. machine-guns in the wings |
| | 1 x 0.303-in Vickers "K" or 1 x Browning gun in the dorsal position |
| | 1 x 18-in. torpedo under fuselage |
| | 8 x rocket projectiles instead of wing guns |