Air Power Series>1:72 die-cast display model>F-105>HA2511
F-105B Thunderchief 108th TFW, 141 TFS, New Jersey ANG "Bicentennial"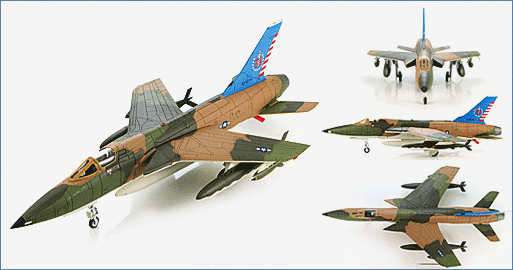 General Background
The Republic F-105 Thunderchief first entered service in 1958. It had been designed for high-speed low-level penetration to deliver a nuclear bomb but was converted to deliver conventional payloads. It was the heaviest U.S. single-engined fighter ever made and could carry a greater bomb load than the B-17, B-24 or B-29. Best known for its action in Vietnam the F-105 flew over 20,000 combat missions with the loss of 382 aircraft out of the 833 produced.
The Aircraft
In April 1964 the 108th TFW received the first of their F-105B Thunderchief. The Thunderchief served with the 108th until 1981 when it was replaced by the F-4D Phantom II. In 1976 F-105B 57-5776 received the custom American Bicentennial paint scheme to honor the countries 200th birthday. 57-5776 was one of the lucky F-105s spared from the bone yard and has been preserved on a pedestal at what is now the 108th Air Refueling Wing, New Jersey Air National Guard compound located at McGuire AFB, New Jersey.
Specifications :
| | |
| --- | --- |
| Nick Names: | Ultra Hog, Super Hog, Iron Butterfly, Lead Sled, Thud |
| Role: | Fighter/Bomber |
| User Countries: | U.S.A |
| Crew: | (1) pilot |
| Performance | |
| Engine: | (1) Pratt & Whitney J75-P-19W turbojet, rated at 17,200 lb.s.t. dry and 26,500 lb.s.t. with afterburner |
| Maximum Speed: | 1,420 mph at 38,000 ft |
| | 1,372 mph at 36,000 ft |
| | 1,122 mph at 50,000 ft |
| | 836 mph at sea level |
| Stall speed: | 208 mph |
| Initial Climb Rate: | 34,500 fpm (clean) |
| Service Ceiling: | 32,100 ft |
| Combat Ceiling: | 48,500 ft |
| Maximum Ceiling: | 50,000 ft |
| Combat Range: | 778 miles |
| Maximum Range with full external fuel: | 2,208 miles |
| Weight | |
| Emptyt: | 27,500 lbs |
| Combat: | 35,637 lbs |
| Gross: | 48,400 lbs |
| Maximum Take/Off: | 52,546 lbs |
| Fuel | |
| Normal Internal Fuel Load: | 1,160 US gallons |
| Internal Weapons Bay: | 390 US gallon auxiliary tank |
| | Optional 450 or 650 US gallon external tanks on the fuselage centerline |
| | Plus a 450 US gallon tank on each of the inboard under-wing pylons |
| Dimensions | |
| Wing Span: | 34 ft 11 in. |
| Length: | 64 ft 3 in. |
| Height: | 19 ft 8 in. |
| Wing Area: | 385 sq. ft. |
| Armament: | (1) 20-mm M61A1 rotary cannon with 1028 rounds (fire rate 6,000 rpm) |
| | Up to 8,000 lbs of ordnance could be carried in the internal weapons bay |
| | An additional 6,000 lbs of ordnance could be carried on (4) under-wing pylons and (1) rack under the fuselage center-line |
| | Up to (4) AIM-9 Sidewinder missiles for self-defense |
| | Up to (2) 3,000 lb bombs |
| | Up to (5) 1,000 lb bombs |
| | Up to (16) 750 lb bombs |
| | Mk 77 napalm, ECM pods, 2.75 in. rockets |