Air Power Series>1:72 die-cast display model>Harrier>HA2611
Harrier GR.9 4 Sqn disbandment scheme "ZG858"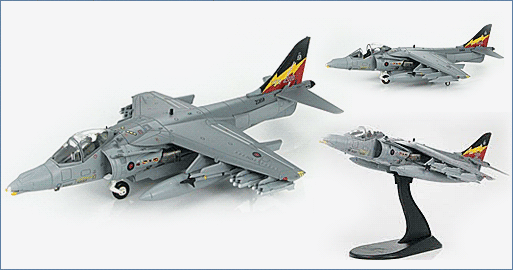 General Background
The Harrier is the first operational V/STOL (Vertical/Short Takeoff and Landing) aircraft. By directing the engines exhaust through movable nozzles the force could be used to propel the aircraft along a runway or lift it vertically and then into a forward motion. Because of this ability to lift off vertically the Harriers began to be referred to as "jump jets". These aircraft were continuously being refined and improved over the years with many new variants being produced.
The Aircraft
The British Joint Force Harriers are due for dress down (retirement) on December 16, 2010. This Harrier wears a special paint scheme marking the years this type of aircraft has been with No. 4 Squadron RAF Wittering.
Specifications :
| | |
| --- | --- |
| Aircrew: | 1 |
| Performance | |
| Engine: | 1 X RR Pegasus 105 or 107 turbofan producing 96.7 kN (21,750 lbs) of thrust |
| Maximum Speed: | 574kts (660 mph) |
| Maximum Altitude: | 13,110 m (43,000 ft) |
| Dimensions | |
| Length: | 14.36m (47.11 ft) |
| Wingspan: | 9.25m (30.35 ft) |
| Armament: | AIM-9 Sidewinder, Maverick, Paveway II, Paveway III, Enhanced Paveway, General Purpose Bombs, CRV-7 |