Air Power Series>1:72 die-cast display model>F-2>HA2711
Japan F-2A 93-8551, ADTW, JASDF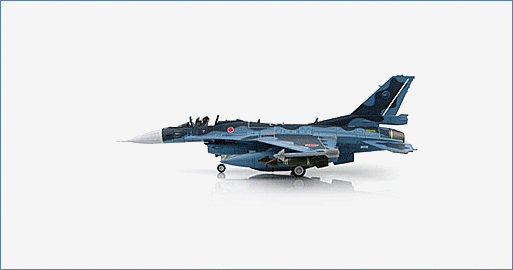 General Background
During the 1980s the U.S. military wasn't interested in an updated version of the F-16 so they passed on the opportunity. Japan was replacing some of their aging fleet and decided to develop the new F-16 Agile Falcon in cooperation with Mitsubishi and Lockheed Martin. Production began in 1996 with the first aircraft being delivered in 2000. The new aircraft was named the F-2 and soon earned the nickname "Viper Zero". Although the F-2 looks similar to the original F-16 it is larger in almost every aspect.
The Aircraft
JASDF Mitsubishi F-2A serial 93-8551 c/n 1051 was first assigned to the Koku Kaihatsu Jikken Shudan (Air Development and Test Command) headquartered in Iruma with the operations branch located at the Hiko Kaihatsu Jikkendan (Air Development and Test Wing) at Gifu AB. The ADTW tests new systems and aircraft to make certain everything was up to the high standards of the JASDF. Next 93-8551 was assigned to the 3 Kokudan, 3 Hikotai, Misawa AB as the Boss Bird and later re-assigned to the 8 Kokudan, 6 Hikotai, Tsuiki AB.
Specifications :
Designation:
F-2A
Single-seat Multi-role fighter
F-2B
Two-seat training version, fully combat capable
Performance
Powerplant:
General Electric F110-GE-129 turbofan
Max Speed:
Mach 2.0
Range:
520 miles (834 km) on anti-ship mission
Service Ceiling:
59,000 ft (18,000 m)
Dimensions
Length:
50 ft 11 in (15.52 m)
Height:
15 ft 5 in (4.69 m)
Wingspan:
36 ft 6 in (11.13 m)
Wing Area:
375 ft² (34.84 m²)
Weights
Empty Weight:
21,000 lb (9,527 kg)
Loaded:
33,000 lb (15,000 kg)
Max Takeoff:
48,700 lb (22,100 kg)
Armament:
20 mm JM61A1 cannon
Capable of carrying up to 17,820 lb (8,085 kg) weapon load on 11 hard points.
Possible Weapons:
Air-to-air - AIM-9 Sidewinder, AIM-7 Sparrow, Mitsubishi AAM-3, Mitsubishi AAM-4
 
Air-to-ground - ASM-1 and ASM-2 anti-ship missiles.