Air Power Series>1:72 die-cast display model>F-111>HA3008
F-111C A8-125 RAAF, "Final Flight"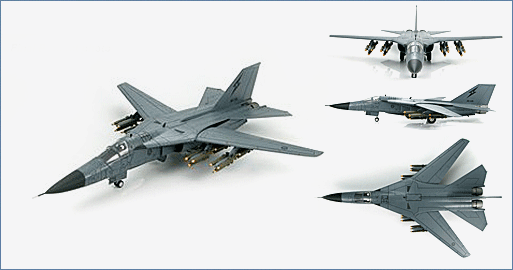 General Background
The General Dynamics F-111 "Aardvark" entered service in 1967 as a medium-range aircraft designed for interdiction and tactical strikes. The F-111 was used as an all-weather attack aircraft capable of low-level penetration of enemy territory. It also could be used for reconnaissance and electronic warfare. Some unique features are variable geometry wings, the 2 crew members sat side by side in an escape capsule, internal weapons bay; terrain following radar and afterburning turbofans. The USAF retired their last F-111 in 1998 but the RAAF still use theirs.
The Aircraft
The RAAF had ordered 24 F-111C's and on June 1st 1973 the first F-111C (Pig) A8-125 landed at RAAF Amberley, Queensland. A8-125 was formerly designated USAF 67-125. The aircraft was flown by GpCpt J W Newham (later CAS) and WgCdr (later AirCdre) T C Owen. On December 3, 2010 A8-125 completed its last flight with 6 Squadron. It was piloted by CO 6 Sqn WG Cdr Michael Gray and marshaled by Daryl Mackiln, the same man who marshaled A8-125 37 years earlier when it first arrived at Amberley.
Specifications :
| | |
| --- | --- |
| Role : | two-seat variable geometry, all-weather strike bomber |
| Entered service : | Ordered in 1963, Delivered in June 1973 |
| Crew : | 2 side by side in air conditioned and pressurized capsule. The capsule ejects to provide shelter and protection from outside elements |
| Powerplant : | 2 x Pratt & Whitney TF30-P103 two shaft axial flow turbofan engines rated @18,500 lb thrust with afterburners |
| Engine weight : | 4,062lb (1,843 kg) |
| Performance: | |
| Max Speed (clean) : | Mach 2.4 @ 40,000ft, Mach 1.1 @sea level |
| Typical range : | cruise 485 mph at 19,000ft |
| Climb rate (combat) : | 23,000ft/min |
| Ceiling Height : | 50,000 / 65,000ft (depending on weight) |
| Ferry range with internal fuel : | 3,700 miles |
| Dimensions : | |
| Length : | 73.6 ft (22.4 m) |
| Height : | 17.14 ft (5.22 m) |
| Wing area : | 550sq ft (51.1m2) |
| Wing Sweep : | 16 degrees (extended) - 70ft (21.33m) span |
| | 72 degrees (full) sweep - 33ft 11.5in (10.35 m) |
| Weights : | |
| Empty: | 55,275 lb (25,072 kg) |
| Loaded: | 70,000 lb (31,751 kg) |
| Maximum Takeoff: | 89,000 lb (40,370 kg) |
| Armament: | 1 x 20mm M61A1 Vulcan with 2,084 rounds. (No longer carried) |
| | 4 x GBU-15, 2000lb T.V. Guided Bombs |
| | 4 x GBU-10, 2000lb Laser Guided bombs |
| | 4 x Mk.84, 2,000lb bombs |
| | 20 x Karinga cluster bomblet dispensers |
| | 24 x 25lb practice bombs |
| | 24 x 25 lb high-drag practice bombs |
| | 4 x Harpoon, radar guided anti shipping missiles |
| | 4 x GBU-12, 500lb Laser guided |
| | 20 x Mk.82 500lb iron bombs with high-drag tail attachment |
| | 24 x standard Mk.82 bombs |
| | Up to 6 x AIM-9 Sidewinder, Air-Air Missiles |
| | 6 x 600 gallon drop tanks |
| | The internal weapons bay can house either fuel, bombs or the AVQ-26 Pave Tack Target Designator |