Air Power Series>1:72 die-cast display model>A-26>HA3201
A-26B Invader 552nd BS, 386th BG, Beaumont, France 1945 "Stinky"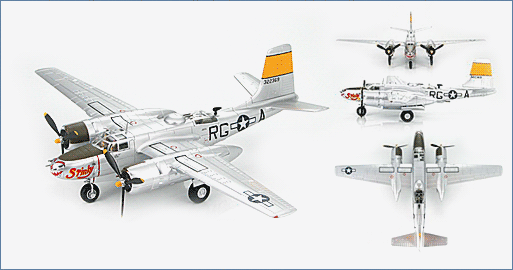 General Background
In 1941 Douglas Aircraft Company began work on their twin-engine medium-bomber A-26 Invader. By the end of production there were 2,452 aircraft produced for all variants. The A- 26/B-26 was the only U.S. bomber to take part in three wars, WWII, Korea and Vietnam. The confusion with the use of the designation B-26 began when the Martin B-26 Marauder was retired and in 1948 the USAF dropped the "A" (Attack) designator so the Douglas A-26 Invader became the B-26 Invader. The A-26 made its first European appearance in late 1944.
The Aircraft
One variant of the Douglas A-26 Invader was the "B" series. Douglas built 1,560 A-26B's. 205 were built in Tulsa Oklahoma with another 1,355 coming from Long Beach California. In July 1944 the 553rd Bombardment Squadron began mission testing the new A-26 but by September this had been suspended because of technical problems. The 386th Bombardment Group "The Crusaders" arrived in Beaumont-sur-Oise, France on Oct 2, 1944 with their Martin B-26 Marauders. Shortly after the Ardennes campaign the 386th BG received the much improved Douglas A-26 Invader.
Specifications :
| | |
| --- | --- |
| First flight: | July 10, 1942 |
| Crew: | 3 |
| Dimensions | |
| Length: | 50 ft 9 in |
| Wingspan: | 70 ft 0 in |
| Height: | 18 ft 6 in |
| Weight: | |
| Empty: | 22,370 lbs |
| Maximum take-off: | 35,000 lbs |
| Performance | |
| Engines: | 2 x Pratt & Whitney R-2800-79 radial piston each producing 2,000 hp |
| Maximum speed @ 15,000 ft: | 355 mph |
| Ceiling: | 22,100 ft |
| Range: | 1,400 miles |
| Armament: | 6 x 12.7 mm (0.5 in) machine guns in nose |
| | 2 x 12.7 mm (0.5 in) machine guns in ventral turret |
| | 2 x 12.7 mm (0.5 in) machine guns in dorsal turret |
| | 6,000 lbs of bombs |
| | 8 x 127 mm (5-inch) rockets |