Air Power Series>1:72 die-cast display model>F-18>HA3558
F/A-18A Hornet A21-39, No. 77 Squadron, RAAF, Dec 2020 "33 Years Hornet of 77 Squadron of RAAF"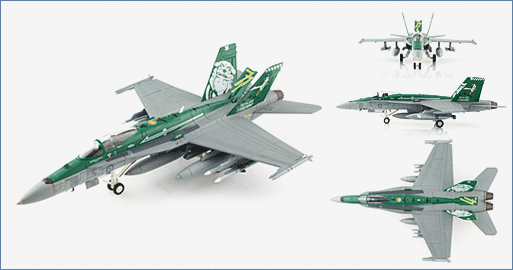 General Background
The McDonnell Douglas (now Boeing) F/A-18 Hornet is a supersonic twin engine all-weather night fighter and attack aircraft. The F/A-18s first flew in November 1978 and the first production flight on April 12, 1980. The first 380 aircraft were F/A-18As and in September 1987 production switched to the F/A-18C. Variants A and C are single-seat aircraft while B and D are tandem-seats. The Hornet can operate from either aircraft carriers or land bases with the capability of in flight refueling. A total of 1,480 A-D variants were built.
The Aircraft
F/A-18A Hornet A21-39 was ordered by the RAAF in late 1981 and delivered in late 1988 and went into service with 3 Squadron. Eventually the aircraft was transferred to 77 Squadron at the RAAF base in Williamtown, NSW. In 2020 this aircraft was given a special paint scheme consisting of a dark green spine and tail with "1985-2020 33 Years Hornet" painted in white on the tail. The inside surface of the tails had an oriental lion image, the same as on the 77 Squadron crest.
Specifications :
| | |
| --- | --- |
| Role: | supersonic twin engine all-weather night fighter and attack aircraft |
| Crew: | 1 x F/A-18C, 2 x F/A-18D (Pilot and Weapons Systems Officer – WSO) |
| Dimensions | |
| Length: | 56 ft (17.1 m) |
| Wingspan With AAMs: | 40 ft 5 in (12.31 m) |
| Folded: | 27 ft 6 in (8.38 m) |
| Height: | 15 ft 4 in (4.7 m) |
| Weight: | |
| Empty: | 23,000 lb (10,400 kg) |
| Loaded: | 36,970 lb (16,770 kg) |
| Maximum Take off: | 51,900 lb (23,500 kg) |
| Performance | |
| Power Plant: | 2 x General Electric F404-GE-402 turbofan |
| Dry Thrust: | 11,000 lbf (48.9 kN) per engine |
| After Burner Thrust: | 17,750 lbf (79.2 kN) per engine |
| Maximum Speed: | Mack 1.8 (1,190 mph) (1,915 km/h) @ 40,000 ft (12,190 m) |
| Range: | 1,089 nmi (1,250 miles) (2,000 km) with 2 x AIM-9s |
| Combat Radius: | 400 nmi (460 miles) (740 km) air-to-air missions |
| Ferry Range: | 1,800 nmi (2,070 miles) (3,330 km) |
| Service Ceiling: | 50,000 ft (15,240 m) |
| Rate of Climb: | 50,000 ft/min (254 m/s) |
| Armament: | 1 x 20 mm M61 Vulcan cannon mounted in nose with 578 rounds |
| | 9 x Hardpoints - a capacity of 13,700 lb (6,215 kg) with external fuel tanks and ordnance |
| | 2 x wingtip missile launch rails |
| | 4 x under-wing |
| | 3 x under-fuselage |
| Rockets: | 2.75 inch (70 mm) Hydra 70 rockets |
| | 5 inch (127 mm) Zuni rockets |
| Missiles: | Air-To-Air |
| | 4 x AIM-9 Sidewinders or |
| | 4 x AIM-132 ASRAAM or |
| | 4 x IRIS-T or 4 x AIM-120 AMRAAM and 2 x AIM-7 Sparrow or |
| | Additional - 2 x AIM-120 AMRAAM |
| Air-To-Surface: | AGM-65 Maverick |
| | Standoff Land Attack Missiles (SLAM-ER) |
| | AGM-88 HARM Anti-radiation Missile (ARM) |
| | AGM-154 Joint Standoff Weapon (JSOW) |
| | Taurus Missile (Cruise Missile) |
| Anti-ship: | AGM-84 Harpoon |
| Bombs: | JDAM Precision-Guided Munition (PGM) |
| | Paveway series of Laser-guided bombs |
| | Mk. 80 series of unguided iron bombs |
| | CBU-87 cluster bombs |
| | CBU-89 gator mine |
| | CBU-97 |
| | Mk. 20 Rockeye II |
| | B61/Mk. 57 nuclear bombs |
| Others: | SUU-42A Flares/Infrared decoys dispenser pod and chaff pod Or |
| | Electronic countermeasures (ECM) pod Or |
| | AN/AAS-38 Nite Hawk targeting pod (USN only) to be replaced by AN/ASQ-228 ATFLIR Or |
| | LITENING targeting pod (only used by USMC, Royal Australian Air Force, Spanish Air Force and Finnish Air Force) Or |
| | Up to 3 x 330 US gallons (270 imp gallons / 1,200 liters) Sargent Fletcher drop tanks for ferry flight Or Extended range/loitering time |
| Avionics: | Hughes APG-73 radar |
| | ROVER (Remotely Operated Video Enhanced Receiver) antenna for use by USN F/A-18C strike fighter squadrons |
| | Inertial Navigation System (INS) |
| | GPS |
| | 2 x mission computers |
| | HUD (Head Up Display) cockpit display |
| | Very High Frequency (VHF) omni-directional landing system |
| | Multiple-functioning Cathode Ray Tube (CRT) display |