Air Power Series>1:72 die-cast display model>F-101>HA3708
McDonnell F-101F Voodoo "58-0276" Texas ANG "1978/80 William Tell Champions"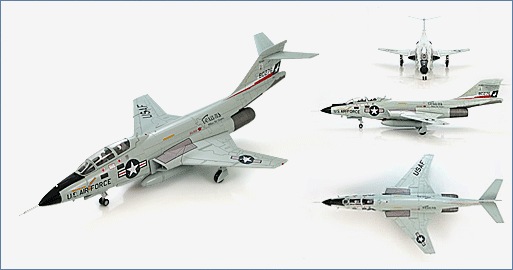 General Background
The McDonnell F-101 Voodoo (nicknamed One-oh-Wonder") first flew in September 1954 with the first production F-101A making its first operational flight in May 1957. In September 1957 the F-101C became operational followed by the F-101B in January 1959. When production ended McDonnell had built 785 Voodoos, 480 of them were the two-seat all-weather interceptor F-101Bs. The RF-101 reconnaissance version was the world's first supersonic photo-recon aircraft. The only major foreign operator of the Voodoo was the Royal Canadian Air Force (RCAF) that acquired 56 CF-101B and 10 CF-101F.
The Aircraft
In 1957 the 111th FIS was re-assigned from the 136th FIG to the 147th FIG as their group flying squadron. On January 1, 1970 the 111th FIS became the 111th Combat Crew Training Squadron with duties as the ANG's Replacement Training Unit for the TF/F-102A and in May 1971 the RTU for the F-101B/F. In January 1975 the F-102s were retired followed by the F-101s in 1982 when replaced by the F-4C. The aircraft wears the markings of the winner of William Tell 1978 and 1980.
Specifications :
| | |
| --- | --- |
| Role: | two-seat all-weather interceptor |
| Crew: | 2 |
| Dimensions | |
| Length : | 67 ft 5 in (20.55 m) |
| Wingspan : | 39 ft 8 in (12.09 m) |
| Wing Area : | 368 ft² (34.20 m²) |
| Height : | 18 ft 0 in (5.49 m) |
| Weight | |
| Empty : | 28,495 lb (12,925 kg) |
| Loaded : | 45,665 lb (20,715 kg) |
| Maximum Take Off : | 52,400 lb (23,770 kg) |
| Performance: | |
| Powerplant : | 2 X Pratt & Whitney J57-P-55 afterburning turbojets |
| Dry thrust : | 11,990 lbf (53.3 kN) each |
| Thrust with afterburner : | 16,900 lbf (75.2 kN) each |
| Internal fuel capacity : | 2,053 gal (7,771 liters) or |
| With two external tanks : | 2,953 gal (11,178 liters) |
| Maximum speed : | Mach 1.72 (1,134 mph / 1,825 km/h) @ 35,000 ft (10,500 m) |
| Range : | 1,520 mi (1,320 nm / 2,450 km) |
| Service ceiling : | 58,400 ft (17,800 m) |
| Rate of climb : | 49,200 ft/min (250 m/s) |
| Armament : | |
| Missiles : | 4 X AIM-4 Falcon Or |
| | 2 X AIM-4 Falcon and 2 X AIR-2 Genie nuclear rockets |
| Avionics : | Hughes MG-13 fire control system |