Air Power Series>1:72 die-cast display model>F-35>HA4410
Lockheed F-35I "Adir"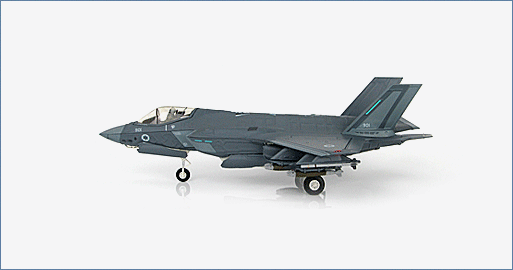 General Background
The Lockheed F-35 is an advanced stealth fifth generation fighter combining speed and superb agility. There are three variants; F-35A, B and C. The F-35A CTOL (Conventional Take Off and Landing) and has four internal weapons stations in two weapons bays plus three optional external weapons stations. The F-35B STOVL (Short Take Off Vertical Landing) variant while the F-35C is a CV (Carrier Variant). The F-35 will replace the USAF A-10 and F-16, the F/A-18 for the USN and the F/A-18 and AV-8B Harrier for the USMC.
The Aircraft
In June 2016 the first Israeli F-35A (AS-1) No. 901 was unveiled and after testing will be delivered to the IDF Nevatim AB in the Negev. The IDF F-35 is named "Adir – Mighty One" in Hebrew. It was announced that Israel will acquire 32 additional F-35s with the option to purchase another 17. The IDF will be upgrading their F-35s with some of their own electronic warfare systems and producing their own guided bombs and air-to-air missiles. With the procurement of the F-35 Israel will decommission its F-15s and F-16s.
Specifications :
| | |
| --- | --- |
| Role: | Multi-role stealth fighter |
| First Flight: | December 16, 2006 |
| Crew: | |
| F-35A CTOL: | 1 |
| F-35B STOVL: | 1 |
| F-35C CV: | 1 |
| Powerplant: |   |
| F-35A: | 1 x Pratt & Whitney F135-PW-100, 40,000 lbs thrust with afterburner,25,000 lbs without. |
| F-35B: | 1 x Pratt & Whitney F135-PW-600, 38,000 lbs thrust with afterburner,26,000 lbs without and 40,500 lbs vertical. |
| F-35C: | 1 x Pratt & Whitney F135-PW-100, 40,000 lbs thrust with afterburner,25,000 lbs without. |
| Internal Fuel Capacity: |   |
| F-35A: | 18,250 lbs (8,278 kg) |
| F-35B: | 13,500 lbs (6,125 kg) |
| F-35C: | 19,750 lbs (8,960 kg) |
| Weights: | |
| Empty: | |
| F-35A: | 29,300 lbs (13,000 kg) |
| F-35B: | 32,300 lbs (14,700 kg) |
| F-35C: | 34,800 lbs (15,800 kg) |
| Maximum: | |
| F-35A: | 70,000 lbs (31,800 kg) |
| F-35B: | 60,000lbs (27,300 kg) |
| F-35C: | 70,000 lbs (31,800 kg) |
| Dimensions: | |
| F-35A: | |
| Length: | 51.4 ft (15.7 m) |
| Wingspan: | 35 ft (10.7 m) |
| Height: | 14.4 ft (4.38 m) |
| F-35B: | |
| Length: | 51.2 ft (15.6 m) |
| Wingspan: | 35 ft (10.7 m) |
| Height: | 14.3 ft (4.36 m) |
| F-35C: | |
| Length: | 51.5 ft (15.7 m) |
| Wingspan: | 43 ft (13.1 m) |
| Height: | 14.7 ft (4.48 m) |
| Performance: | |
| Speed with full internal weapons load: | |
| F-35A: | Mach 1.6 |
| F-35B: | Mach 1.6 |
| F-35C: | Mach 1.6 |
| Combat Radius with internal fuel: | |
| F-35A: | 590 nm (1,093 km) |
| F-35B: | 450 nm (833 km) |
| F-35C: | 600 nm (1,100 km) |
| Range with internal fuel: | |
| F-35A: | 1,200 nm (2,200 km) |
| F-35B: | 900 nm (1,667 km) |
| F-35C: | 1,200 nm (2,200 km) |
| Weapons (Standard Internal): | |
| F-35A: | 1 x 25 mm GAU-22/A cannon |
| | 2 x AIM-120C air-to-air missiles |
| | 2 x 2,000 pound GBU-31 JDAM guided bombs |
| Weapons Payload: | 18,000 lbs (8,160 kg) |
| F-35B: | 2 x AIM-120C air-to-air missiles |
| | 2 x 1,000 lb GBU32 JDAM guided bombs |
| F-35C: | 2 x AIM-120C air-to-air missiles |
| | 2 x 2,000 pound GBU-31 JDAM guided bombs |