Air Power Series>1:72 die-cast display model>F-35>HA4415
Lockheed Martin F-35A Lightning II 32-05/MM7336, June 2017 "100 ANNI XIII Gruppo CACCIA"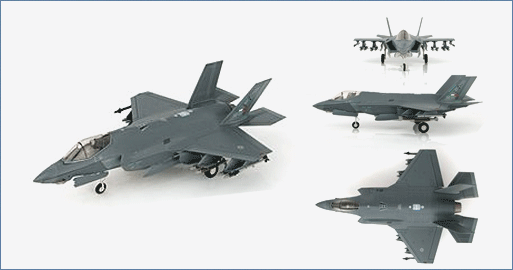 General Background
The Lockheed F-35 is an advanced stealth fifth generation fighter combining speed and superb agility. There are three variants; F-35A, B and C. The F-35A CTOL (Conventional Take Off and Landing) and has four internal weapons stations in two weapons bays plus three optional external weapons stations. The F-35B STOVL (Short Take Off Vertical Landing) variant while the F-35C is a CV (Carrier Variant). The F-35 will replace the USAF A-10 and F-16, the F/A-18 for the USN and the F/A-18 and AV-8B Harrier for the USMC.
The Aircraft
On June 24, 2017 an event was held marking the 100th Anniversary of five of Italy's most noted combat squadrons. Four of the five are equipped with the Eurofighter Typhoon while the fifth is the XIII Gruppo (13th Squadron) CACCIA (Hunting) / 32 (Stormo) Wing and Italy's first unit equipped with the F-35A Lightning II. For the occasion F-35As MM7336/32-05 and the MM7357/32-07 were given special markings on the left side tail only. It depicts Don Quixote, the number 100 and the dates 1917-2017. These F-35As were built at Plant Cameri FACO.
Specifications :
| | |
| --- | --- |
| Role: | Multi-role stealth fighter |
| First Flight: | December 16, 2006 |
| Crew: | |
| F-35A CTOL: | 1 |
| F-35B STOVL: | 1 |
| F-35C CV: | 1 |
| Powerplant: |   |
| F-35A: | 1 x Pratt & Whitney F135-PW-100, 40,000 lbs thrust with afterburner,25,000 lbs without. |
| F-35B: | 1 x Pratt & Whitney F135-PW-600, 38,000 lbs thrust with afterburner,26,000 lbs without and 40,500 lbs vertical. |
| F-35C: | 1 x Pratt & Whitney F135-PW-100, 40,000 lbs thrust with afterburner,25,000 lbs without. |
| Internal Fuel Capacity: |   |
| F-35A: | 18,250 lbs (8,278 kg) |
| F-35B: | 13,500 lbs (6,125 kg) |
| F-35C: | 19,750 lbs (8,960 kg) |
| Weights: | |
| Empty: | |
| F-35A: | 29,300 lbs (13,000 kg) |
| F-35B: | 32,300 lbs (14,700 kg) |
| F-35C: | 34,800 lbs (15,800 kg) |
| Maximum: | |
| F-35A: | 70,000 lbs (31,800 kg) |
| F-35B: | 60,000lbs (27,300 kg) |
| F-35C: | 70,000 lbs (31,800 kg) |
| Dimensions: | |
| F-35A: | |
| Length: | 51.4 ft (15.7 m) |
| Wingspan: | 35 ft (10.7 m) |
| Height: | 14.4 ft (4.38 m) |
| F-35B: | |
| Length: | 51.2 ft (15.6 m) |
| Wingspan: | 35 ft (10.7 m) |
| Height: | 14.3 ft (4.36 m) |
| F-35C: | |
| Length: | 51.5 ft (15.7 m) |
| Wingspan: | 43 ft (13.1 m) |
| Height: | 14.7 ft (4.48 m) |
| Performance: | |
| Speed with full internal weapons load: | |
| F-35A: | Mach 1.6 |
| F-35B: | Mach 1.6 |
| F-35C: | Mach 1.6 |
| Combat Radius with internal fuel: | |
| F-35A: | 590 nm (1,093 km) |
| F-35B: | 450 nm (833 km) |
| F-35C: | 600 nm (1,100 km) |
| Range with internal fuel: | |
| F-35A: | 1,200 nm (2,200 km) |
| F-35B: | 900 nm (1,667 km) |
| F-35C: | 1,200 nm (2,200 km) |
| Weapons (Standard Internal): | |
| F-35A: | 1 x 25 mm GAU-22/A cannon |
| | 2 x AIM-120C air-to-air missiles |
| | 2 x 2,000 pound GBU-31 JDAM guided bombs |
| Weapons Payload: | 18,000 lbs (8,160 kg) |
| F-35B: | 2 x AIM-120C air-to-air missiles |
| | 2 x 1,000 lb GBU32 JDAM guided bombs |
| F-35C: | 2 x AIM-120C air-to-air missiles |
| | 2 x 2,000 pound GBU-31 JDAM guided bombs |