Air Power Series>1:72 die-cast display model>F-15>HA4510
McDonnell Douglas F-15DJ Eagle 82-8065 204th SQ, 83rd AG, J.A.S.D.F. Naha A.B.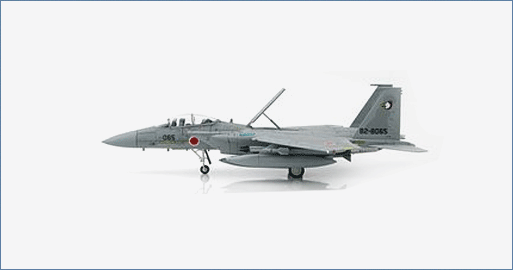 General Background
In 1967 the U.S. became aware of the Soviet MiG-25 Foxbat. This made it necessary to develop a new aircraft to counter the MiG-25. The USAF rejected the USN F-14 Tomcat and issued its own requirements. The solution came in the form of the McDonnell-Douglas (now Boeing) F-15 Eagle. The F-15A made its inaugural flight in July 1972 and in January 1976 the first Eagle entered service. The "E" entered service in 1989. The F-15 was the first dedicated USAF air superiority fighter since the F-86 Sabre".
The Aircraft
McDonnell Douglas F-15DJ 82-8065 was one of the six aircraft sent to the Hiko Kyodotai, an aggressor squadron based at Nyutabaru. The Mitsubishi T-2s had low power and non-acceptable accident rate so it was decided to replace them with the F-15DJ. Aircraft from this unit wore a cobra head painted on it. This F-15DJ eventually was reassigned to the 204 Hikotai/83 Kokotai that had been based at Hyakuri but in 2009 swapped bases with the 302 Hikotai. 204 Hikotai now operates out of Naha AB, Okinawa.
Specifications :
| | |
| --- | --- |
| Role: | C – Single-seat, all-weather, air-superiority fighter - 483 built |
| | D – Dual-seat variant of the C – 92 built |
| | E – Dual-seat, all-weather, multi-role strike fighter - 237 built |
| Dimensions | |
| Length: | C/D/E 63 ft 9 in (19.43 m) |
| Wingspan: | C/D – 42 ft 10 in (13.06 m) |
| | E – 42 ft 9.75 in (13.05 m) |
| Height: | C/D – 18 ft 8 in (5.69 m) |
| | E – 63 ft 9 in (5.63 m) |
| Weight: | |
| Empty: | C/D - 28,600 lb (12793 kg) |
| | E – 31,700 lb (14,379 kg) |
| Maximum Take-off: | C/D – 68,000 lb (30,844 kg) |
| | E – 81,000 lb (36,741 kg) |
| Engines: | C/D – 2 X P&W F100-PW turbofans with afterburners, each engine rated @ 25,000 thrust (11,250 kg) |
| | E/F – Prior to August 1991 - 2 X P&W F100-P-220 turbofans, each rated @ 14,670 ls st (65.26kN) dry and 23,830 lb st (106.0 kN) with afterburners |
| | After August 1991 – 2 X P&W F100-PW-229 turbofans, each rated @ 17,800 lb st (79.18 kN) dry and 29,100 lb st (129.45 kN) with afterburners |
| Range: | |
| C/D: | Ferry - 3,450 miles (3,000 nm) with CFTs + 3 X external fuel tanks |
| E: | Ferry – 3,570 miles (3,100 nm) with CFTs + drop tanks |
| With Drop Tanks only: | 2,765 miles (2,400 nm) |
| Normal Combat Radius: | 790 miles (685 nm) |
| Maximum Combat Radius: | 1,150 miles (1,000 nm) |
| Speeds: | C/D – 1,875 mph (Mach 2.5 +) |
| | E - Maximum Level Flight Clean @ High Altitude – 1,650 mph (2,655 km/h) |
| | Cruise @ Optimum Altitude – 570 mph (917 km/h) |
| Ceiling: | C/D – 65,000 ft (19,697 m) |
| | E – 60,000 ft (18,290 m) |
| Armament: | |
| C: | 1 X M-61A1 20mm multi-barrel internal gun, 940 rounds of ammunition |
| | 4 X AIM-9L/M Sidewinders And |
| | 4 X AIM-7F/M Sparrow missiles Or |
| | Missile Combination - AIM-9L/M, AIM-7-F/M and AIM-120 |
| E: | 1 X M-61A1 20mm multi-barrel internal gun, 512 rounds of ammunition |
| | 4 X AIM-9L/M Sidewinder on the under-wing stations And |
| | 12 X CBU-52 (6 with wing tanks) |
| | 12 X CBU-59 (6 with wing tanks) |
| | 12 X CBU-71 (6 with wing tanks) |
| | 12 X CBU-87 (6 with wing tanks) |
| | 12 X CBU-89 (6 with wing tanks) |
| | 20 X MK-20 (6 with wing tanks) |