Air Power Series>1:72 die-cast display model>F-15>HA4519
F-15E Strike Eagle"Billy the Kid" 92-366, 391st Expeditionary Fighter Squadron, April 2019 "Operation Inherent Resolve"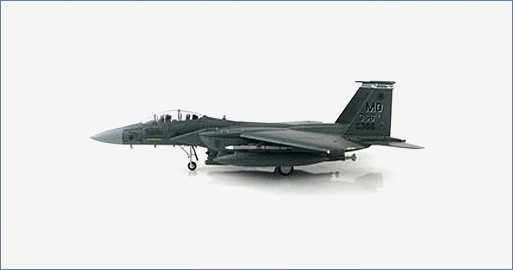 General Background
In 1967 the U.S. became aware of the Soviet MiG-25 Foxbat. This made it necessary to develop a new aircraft to counter the MiG-25. The USAF rejected the USN F-14 Tomcat and issued its own requirements. The solution came in the form of the McDonnell-Douglas (now Boeing) F-15 Eagle. The F-15A made its inaugural flight in July 1972 and in January 1976 the first Eagle entered service. The "E" entered service in 1989. The F-15 was the first dedicated USAF air superiority fighter since the F-86 Sabre".
The Aircraft
In October 2014 a Combined Joint Task Force called Operation Inherent Resolve was established to carry out military actions against ISIS in Iraq and Syria. Semiannually the U.S. rotate aircraft to ensure there is an appropriate amount of air support to accomplish the mission. Between October 2018 and April 2019 the 391st FS "Bold Tigers" / 366th FW were assigned to "OIR". The 391st sent 18 F-15Es to the Middle East and each aircraft had a distinct nickname. F-15E 92-0366 wore "Billy the Kid".
Specifications :
| | |
| --- | --- |
| Role: | C – Single-seat, all-weather, air-superiority fighter - 483 built |
| | D – Dual-seat variant of the C – 92 built |
| | E – Dual-seat, all-weather, multi-role strike fighter - 237 built |
| Dimensions | |
| Length: | C/D/E 63 ft 9 in (19.43 m) |
| Wingspan: | C/D – 42 ft 10 in (13.06 m) |
| | E – 42 ft 9.75 in (13.05 m) |
| Height: | C/D – 18 ft 8 in (5.69 m) |
| | E – 63 ft 9 in (5.63 m) |
| Weight: | |
| Empty: | C/D - 28,600 lb (12793 kg) |
| | E – 31,700 lb (14,379 kg) |
| Maximum Take-off: | C/D – 68,000 lb (30,844 kg) |
| | E – 81,000 lb (36,741 kg) |
| Engines: | C/D – 2 X P&W F100-PW turbofans with afterburners, each engine rated @ 25,000 thrust (11,250 kg) |
| | E/F – Prior to August 1991 - 2 X P&W F100-P-220 turbofans, each rated @ 14,670 ls st (65.26kN) dry and 23,830 lb st (106.0 kN) with afterburners |
| | After August 1991 – 2 X P&W F100-PW-229 turbofans, each rated @ 17,800 lb st (79.18 kN) dry and 29,100 lb st (129.45 kN) with afterburners |
| Range: | |
| C/D: | Ferry - 3,450 miles (3,000 nm) with CFTs + 3 X external fuel tanks |
| E: | Ferry – 3,570 miles (3,100 nm) with CFTs + drop tanks |
| With Drop Tanks only: | 2,765 miles (2,400 nm) |
| Normal Combat Radius: | 790 miles (685 nm) |
| Maximum Combat Radius: | 1,150 miles (1,000 nm) |
| Speeds: | C/D – 1,875 mph (Mach 2.5 +) |
| | E - Maximum Level Flight Clean @ High Altitude – 1,650 mph (2,655 km/h) |
| | Cruise @ Optimum Altitude – 570 mph (917 km/h) |
| Ceiling: | C/D – 65,000 ft (19,697 m) |
| | E – 60,000 ft (18,290 m) |
| Armament: | |
| C: | 1 X M-61A1 20mm multi-barrel internal gun, 940 rounds of ammunition |
| | 4 X AIM-9L/M Sidewinders And |
| | 4 X AIM-7F/M Sparrow missiles Or |
| | Missile Combination - AIM-9L/M, AIM-7-F/M and AIM-120 |
| E: | 1 X M-61A1 20mm multi-barrel internal gun, 512 rounds of ammunition |
| | 4 X AIM-9L/M Sidewinder on the under-wing stations And |
| | 12 X CBU-52 (6 with wing tanks) |
| | 12 X CBU-59 (6 with wing tanks) |
| | 12 X CBU-71 (6 with wing tanks) |
| | 12 X CBU-87 (6 with wing tanks) |
| | 12 X CBU-89 (6 with wing tanks) |
| | 20 X MK-20 (6 with wing tanks) |