Air Power Series>1:72 die-cast display model>F-18E/F>HA5113
F/A-18F Super Hornet 168493, VFA-103, USS Lincoln , 2017 "75th Anniversary Commemorative Scheme"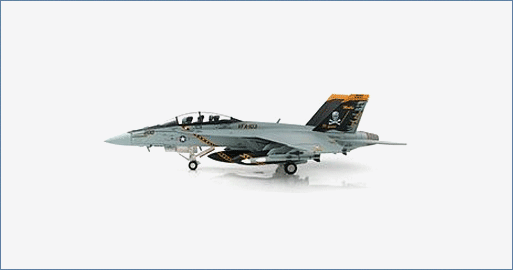 General Background
The McDonnell Douglas Boeing F/A-18E Super Hornet is a twin-engine multi-role carrier-based aircraft. The "E" variant is single-seater while the "F" variant is a tandem-seat configuration. The "E" is a much larger, more advanced and more capable variant of the F/A-18C. The Super variant can carry a larger array of weapons as well as more of them and is capable of returning to the carrier while still carrying unspent munitions, a big savings in dollars. The first F/A-18E flight was in 1995 and began delivery to the USN in 1999.
The Aircraft
In December 2004 VF-103 "Jolly Rogers" returned from a deployment and retired their F-14Bs for the newer F/A-18F Super Hornet. In 2005, along with the new aircraft came a new designation for the "Jolly Rogers", VFA-103. On May 22, 2018 VFA-103 was assigned to USS Abraham Lincoln CVW-7. The CAG aircraft, F/A-18F Super Hornet (BuNo 168493) received special markings to celebrate the squadron's 75th Anniversary (1943 – 2018). The inner part of the left fin lists the squadrons that have been "Jolly Rogers" over the years.
Specifications :
| | |
| --- | --- |
| Role: | Multi-role attack and fighter |
| Crew: | F/A-18E x 1 / F/A-18F x 2 |
| Dimensions | |
| Length: | 60.3 ft (18.5 m) |
| Height: | 16 ft (4.87 m) |
| Wingspan: | 44.9 ft (13.68 m) |
| Weight: | Maximum Gross Take-off 66,000 lbs (29,932 kg) |
| Performance | |
| Power Plant: | 2 x F414-GE-400 turbofans |
| Thrust (Static): | 22,000 lbs (9,977kg) per engine |
| Ceiling : | 50,000 ft + |
| Speed: | Mach 1.8 + |
| Armament: | 1 x M61A1/A2 Vulcan 20mm cannon (internal) |
| Possible External Payload: | AIM 7 Sparrow |
| | AIM-120 AMRAAM |
| | Harpoon |
| | HARM |
| | Shrike |
| | SLAM |
| | SLAM-ER |
| | Walleye |
| | Maverick |
| | JSOW (Joint-Stand-Off Weapon) |
| | JDAM (Joint Direct Attack Munitions |
| | An assortment of bombs, mines and rocket |