Air Power Series>1:72 die-cast display model>MIG-17>HA5903
MIG-17 "Fresco A" Blue 88, Soviet Air Force, August 1968 "Invasion of Czechoslovakia"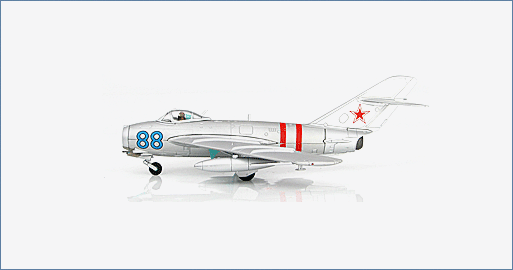 General Background
The Soviet built Mikoyan-Gurevich MiG-17 (Fresco) was initially called the MiG-15bis+45° and completed its maiden flight on January 13, 1950 and entered service in 1952. There were five variants of the MiG-17 with the MiG-17F (Fresco C) becoming the main variant. The new Klimov VK-1F engine was the first Soviet built engine with an afterburner and variable nozzle. The installation of this new engine gave the MiG-17F double the rate of climb of previous variants and greatly improved vertical maneuvers. This aircraft lacked radar and was purely a day-time fighter.
The Aircraft
The Soviet Union wouldn't tolerate the liberal policies of the Warsaw Pact Czechoslovakian Communist regime so on August 20 – 21, 1968 the Soviet Union along with Bulgaria, Hungary, East Germany and Poland sent forces to Prague to put an end to Alexander Dubček's leadership. Romania and Albania refused to partake in the invasion. Initially 250,000 troops and 2,000 tanks entered Czechoslovakia along with air support. MiG-17A Blue 88 wearing red invasion stripes was one of the rare PVO aircraft to take part in the invasion. The PVO was a homeland defense force.
Specifications :
| | |
| --- | --- |
| Number All MiG-17 Manufactured: | 8,000+ in USSR and 3,000+ licensed (Shenyang J-5/F-5/JJ -5/FT-5, Avia S-104, PZL Lim-5/6) |
| Crew: | 1 |
| Performance | |
| Engine: | 1 X Klimov VK-1F Afterburning Turbojet |
| Thrust Dry: | 5,955 lbf (26.5kN) |
| Thrust With Afterburner: | 7,423 lbf (33.8 kN) |
| Maximum Speed @ 10.000 ft (3,000 m): | 711 mph (1,145 km/h / 618 knots / Mach 0.968) |
| Service Ceiling : | 54,450 ft (16,600 m) |
| Rate Of Climb: | 12,800 ft/min (65 m/sec) |
| Range With Drop Tanks: | 1,280 mi (2,060 km) |
| Weight | |
| Empty: | 8,640 lb (3,919 kg) |
| Loaded: | 11,770 lb (5,350 kg) |
| Max Takeoff: | 13, 375 lb (6,069 kg) |
| Dimensions | |
| Wing Span: | 31 ft 7 in (9.63 m) |
| Length: | 36 ft 11.5 in (11.26 m) |
| Height: | 12 ft 5.5 in (3.80 m) |
| Armament: | 1 X 37 mm Nudelman N-37 Cannon w/ 40 Rounds |
| | 2 X 23 mm Nudelman-Rilhter NR-23 Cannons w/80 Rounds Per Gun |
| | 2 X External Pylons |
| | Up To 1,100 lbs – Bombs, Unguided Rockets, Fuel Tanks |