Air Power Series>1:72 die-cast display model>Su-33>HA6406
Su-33 Flanker D Bort 70 "Major-General Timur Apakidze"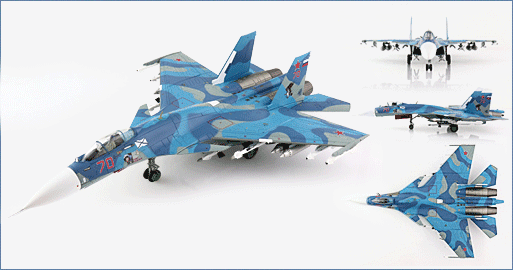 General Background
The J-15 is a Chinese twin-engine all-weather carrier-based fighter manufactured by the Shenyang Aircraft Corporation in cooperation with the 601 Institute for the Chinese PLAN aircraft carriers. In China the J-15 is known as the Flying Shark with a NATO designation of Flanker-X2. The J-15 has the same basic airframe design as the Su-33. When the jet entered service in 2015 it was compared to the U.S. Navy's two-seat FA-18 Super Hornet fighter. In 2018 it was announced the J-15 would stop production for the J-15B.
The Aircraft
In 1995 Timur Apakidze had the title of Hero of the Russian Federation bestowed upon him for his great work with naval aviation and testing of new technology. After completing studies at the General Staff Academy in 2000 Apakidze became a Russian Major General and Deputy Commander of Naval Aviation. On July 17, 2001 during an air show; Apakidze was flying his Su-33 when the aircraft became uncontrollable and instead of ejecting he struggled to get the aircraft away from the crowd and died a hero.
Specifications :
| | |
| --- | --- |
| First Flight: | August 31, 2009 |
| In Service: | 2013 |
| Crew: | 1 – 2 |
| Dimensions | |
| Length: | 21.19 m (72 ft) |
| Wingspan: | Down – 14.7 m (48 ft 3 in) |
| | Folded – 8.4 m (27.56 ft) |
| | Height – 5.9 m (19.42 ft) |
| Weights: | Empty – 175,000 kg (38,600 lb) |
| | Loaded – 27,000 kg (60,000 lb) |
| | Maximum Takeoff – 33,000 kg (72,752 lb) |
| Performance: | Powerplants – 2 X Modified WS-10 Variants Producing 132kN Each |
| | Maximum Speed – Mach 2.4 (2,940 kph 1,826 mph) |
| | Ferry Range – 3,500 km (2,175 miles) |
| Armament: | Cannon – 1 X 30 mm GSh-30-1 With 150 Rounds |
| | Munitions On 12 External Hardpoints |
| | 8 X PL-12 or R-77 And |
| | 4 X PL-9 Or R-73 Air-To-Air Missiles |
| | YJ-62 Or Kh-41 Anti-Ship Missiles |
| | YJ-91 Supersonic Anti-Ship Missiles |
| | ECM Pods |
| | Various Bombs And Rockets |