Air Power Series>1:72 die-cast display model>Eurofighter>HA6618
Eurofighter Typhoon 14-31, 142 Squadron, Spanish Air Force, "NATO Tiger Meet 2018"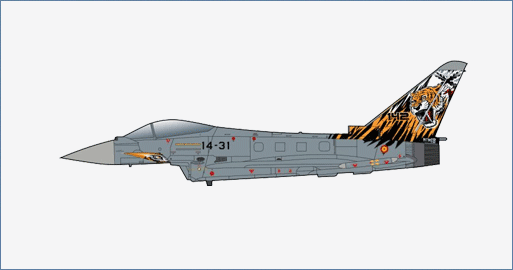 General Background
The Eurofighter Typhoon is a twin-engine multi-role fighter built by a European consortium made up of the UK, Germany, Spain and Italy. With 4 countries involved it is necessary to have what they call Tranches (similar to contracts) that are broken down into batches and blocks. The development of the Eurofighter began in 1983 with the prototype maiden flight of the Eurofighter taking place on March 27, 1994. The first fully equipped Tranche 2 Instrumented Production Aircraft (IPA7) took to the skies on January 16, 2008.
The Aircraft
NATO Tiger Meet 2018 was held May 14 - 25. The host unit was the 6 Eskadra Lotnictwa Taktycznego of the 31. Tactical Air Base, Polish Air Force located at Poznań-Krzesiny in Western Poland. The annual meet was comprised of 19 units from 16 air arms that sent 65 aircraft as well as ground crews. One of the aircraft that participated was Eurofighter Typhoon 14-31,142 Squadron, Spanish Air Force. The Ala 14 at Albacete received the first 6 Eurofighters on April 30, 2012 followed by 2 more on May 14, 2012.
Specifications :
Production Consortium:
UK, Germany, Spain and Italy
Role:
air defense and ground attack with full multi and swing-role capabilities
Production:
Expected 623 / 9 Countries
Length Of Time To Produce Each Aircraft:
9,500 Hours / 248 Days
Dimensions
Length:
14.96 m (49 ft)
Wingspan:
10.95 m (35 ft 11 in)
Height:
5.28 m (17 ft 4 in)
Weight:
Empty:
9,750 kg (21,495 lb)
Maximum External Stores:
6,500 kg (14,300 lb)
Maximum Takeoff :
23,500 kg (51,808 lb)
Internal Fuel:
4,000 kg (8,818 lb)
Performance
Power Plant:
2 X EJ200 Turbofans
With Afterburner:
20,000 lbf (90 kN) Each Engine
Without Afterburner:
13,500 lbf (60 kN) Each Engine
Rate of Climb:
255 m/s (836 ft/s)
Maximum speed:
2,125 km/h (1,320 mph)
Minimum speed:
203 km/h (126 mph)
Service Ceiling:
18,290 m (60,000 ft)
Armament:
1 Internal 27 mm Mauser Gun
13 External Hardpoints / 5 X Under Fuselage 4 X Under Each Wing
Missiles
Air-To-Air
AIM-120 AMRAAM
AIM-132 ASRAAM
AIM-9 Sidewinder
IRIS-T
MBDA Meteor
Air-To-Surface
AGM-65 Maverick
AGM-68 HARM
Brimstone
Taurus KEPD 350
Storm Shadow/Scalp EG
SPEAR 3 (FUTURE)
Marte ER Anti-Ship
Joint Strike (FUTURE)
Bombs
Paveway II/II/Enhanced Paveway (LGB)
Small Diameter Bombs (FUTURE FOR P2E)
JDAM (FUTURE)
HOPE/HOSBO (FUTURE)
Spice 250

Extras
Damocles (Targeting Pods)
LITENING III Laser Targeting Pods
Sniper advanced Targeting Pods
Maximum 3 X Drop Tanks For Ferrying/ Extended Flights/ Loitering Time
Conformal Tanks On Tranche 3 Or Later