Ground Power Series>1:48 die-cast display model>Sherman>HG1002
M4A3 105mm Howitzer (Assault Gun) HQ Company, 756th Tank Bttn., February 1944, Germany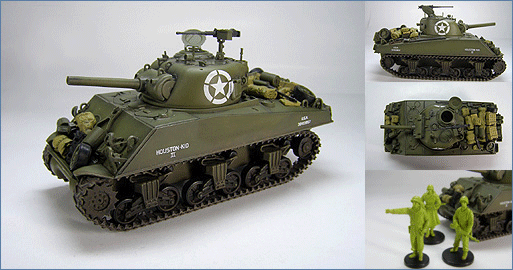 General Background
Initially known as the T6 medium tank, M4 Sherman was the workhorse for the US Army during WWII. M4 was named after Union General William Tecumseh Sherman (1820-1891). The tank went into production in Oct.1941 and went into service in late 1942. A total of 49,234 of Sherman gun tanks were produced and only the Russian T-34 had produced in greater numbers.

The M4 was basically designed as an infantry support tank , it was thin armored and carried a relatively small caliber main gun for greater speed and minimum fuel consumption. Though not on par with Germany 's heavy tanks like Tiger and Panther in terms of firepower and armor protection, M4 medium tank was famed for its reliability, mobility and ease of maintenance. It could be transported by rails, put into ships and carried all over the world. M4 was seen in almost every battlefield from 1942 onwards and had contributed much to the success of the Western Allies.
The Tank
The M4A3 105mm Howitzer (Assault Support) was one of the most power variants of the M4 Sherman. It was created to replace the M7 Priest to provide heavy close fire support to assault enemy outposts. Externally it looked like just any normal M4A3 except the short and stubby gun barrel. Internally, the tank was rearranged. A new one piece "vision" cupola was fitted for the commander.

The 105mm Howitzer could fire M1 HE (High Explosive) shells at a max. range of 11,500m. It could also be used as an anti-tank weapon firing the M67 HEAT (High Explosive Anti-Tank) shells firing at a max. range of 7,855m at a speed of 381m/s. Other ammunition it could take include the M60 and M84 smoke rounds.

The 105mm Howitzers were brought into battle from July 1944 in Europe and they played an important role for the fight against the German Army on the front lines. Later production of the tanks had the new HVSS suspension which improved mobility. During the Korea War, the USMC used the regular M4A3 (105mm) fitted with an M1A1 dozer blade.

Totals of 1,641 of the M4 (105mm) and 3,039 of the M4A3 (105mm) were delivery to the US . The UK received 593 M4 (105mm) tanks.
Specifications (M4A3 105mm Howitzer) :
| | |
| --- | --- |
| Engine : | Continental R975-C4 9-cylinder 4-cycle radial air cooled (15,945cc displacement, 460hp/2,400rpm output) |
| Total Qty. Produced : | 3,039 (500 with VVSS, 2,539 with HVSS) |
| Production Period : | May to Sept 1944 |
| Combat Weight : | 31.6 ton |
| Gears : | 5 forward, 1 reverse |
| Length : | 6.19m |
| Width : | 2.67m |
| Height : | 2.94m |
| Max Speed : | 38.6km/h |
| Fuel : | 174 galls |
| Range : | 161km |
| Armament : | 1x 105mm Howitzer (66 rounds) |
| | 2x M1919A4 7.62mm machine gun (6,250 rounds) |
| | 1x M2 12.7mm heavy machine gun (600 rounds) |