Ground Power Series>1:48 die-cast display model>Sherman>HG1003
M4A3 105mm H Co., 69th Tank Bttn., 6th Armor Division, Dec 1944 Ardennes, "Battle of Bulge"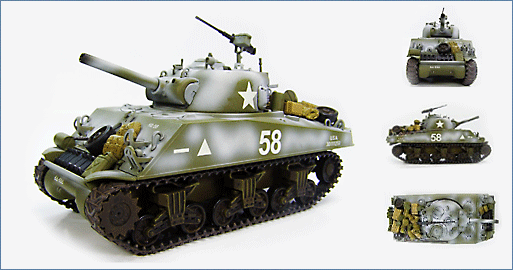 General Background
Initially known as the T6 medium tank, M4 Sherman was the workhorse for the US Army during WWII. M4 was named after Union General William Tecumseh Sherman (1820-1891). The tank went into production in Oct.1941 and went into service in late 1942. A total of 49,234 of Sherman gun tanks were produced and only the Russian T-34 had produced in greater numbers.

The M4 was basically designed as an infantry support tank , it was thin armored and carried a relatively small caliber main gun for greater speed and minimum fuel consumption. Though not on par with Germany 's heavy tanks like Tiger and Panther in terms of firepower and armor protection, M4 medium tank was famed for its reliability, mobility and ease of maintenance. It could be transported by rails, put into ships and carried all over the world. M4 was seen in almost every battlefield from 1942 onwards and had contributed much to the success of the Western Allies.
The Tank
The 69th Armored Regiment was constituted July 1940 and September 1943 became the 69th Tank Battalion. They entered the war July 27, 1944 with the 6th Armored Division at Normandy. They joined Patton's 3rd Army and fought across northern France taking part in the Battle of the Bulge at Bastogne. They all continued their push eastward and the 69th Tank Battalion war ended near Leipzig. On July 11, 1945 they were relieved from assignment and became an amphibious tractor battalion. March 8,1946 they were inactivated.
Specifications (M4A3 105mm Howitzer) :
| | |
| --- | --- |
| Engine : | Continental R975-C4 9-cylinder 4-cycle radial air cooled (15,945cc displacement, 460hp/2,400rpm output) |
| Total Qty. Produced : | 3,039 (500 with VVSS, 2,539 with HVSS) |
| Production Period : | May to Sept 1944 |
| Combat Weight : | 31.6 ton |
| Gears : | 5 forward, 1 reverse |
| Length : | 6.19m |
| Width : | 2.67m |
| Height : | 2.94m |
| Max Speed : | 38.6km/h |
| Fuel : | 174 galls |
| Range : | 161km |
| Armament : | 1x 105mm Howitzer (66 rounds) |
| | 2x M1919A4 7.62mm machine gun (6,250 rounds) |
| | 1x M2 12.7mm heavy machine gun (600 rounds) |