Ground Power Series>1:48 die-cast display model>Sherman>HG1007
M4A3 Sherman 4th Marine Tank Battlion, Iwo Jima, Feb 1945 "Doris"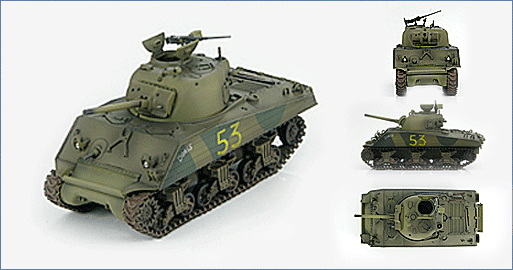 General Background
Initially known as the T6 medium tank, M4 Sherman was the workhorse for the US Army during WWII. M4 was named after Union General William Tecumseh Sherman (1820-1891). The tank went into production in Oct.1941 and went into service in late 1942. A total of 49,234 of Sherman gun tanks were produced and only the Russian T-34 had produced in greater numbers.

The M4 was basically designed as an infantry support tank , it was thin armored and carried a relatively small caliber main gun for greater speed and minimum fuel consumption. Though not on par with Germany 's heavy tanks like Tiger and Panther in terms of firepower and armor protection, M4 medium tank was famed for its reliability, mobility and ease of maintenance. It could be transported by rails, put into ships and carried all over the world. M4 was seen in almost every battlefield from 1942 onwards and had contributed much to the success of the Western Allies.
Specifications :
| | |
| --- | --- |
| Manufacturers: | Fisher Tank Arsenal, Detroit Tank Arsenal (Chrysler) |
| Total Qty. Produced : | 3,071 |
| Production Period : | Feb. 1944 to March 1945 |
| Engine: | Ford GAA V-8 cyl, 450bhp |
| Weight : | 31.6 ton |
| Gears : | 5 forward, 1 reverse |
| Length : | 6.27m (20ft 7in) over Hull |
| Width : | 2.68m (8ft 9.5in) |
| Height : | 3.34m (11ft 2.875in) |
| Max Speed : | 26 mph |
| Cross country: | 15 mph |
| Fuel : | 174 galls |
| Range : | 161km |
| Armament : | 1x 75mm Gun (104 rounds) |
| | 2x M1919A4 7.62mm machine gun (6,250 rounds) |
| | 1x M2 12.7mm heavy machine gun (600 rounds) |