Ground Power Series>1:48 die-cast display model>MUTT>HG1904
M151A2 Ford MUTT 3rd Armoured Division, US Army "CONVOY FOLLOWS"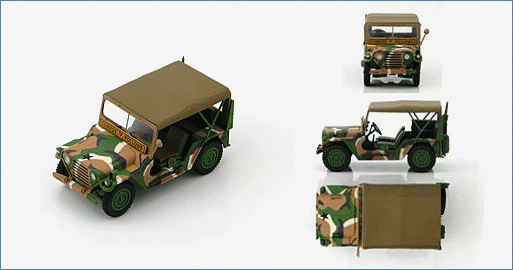 General Background
In 1951 Ford Motor Company was awarded a contract to develop a replacement for the M38 Jeep Light Utility Vehicle. The vehicle had to be a ¼ ton 4x4 Military Utility Tactical Truck (M151 MUTT) and after extensive testing began production in 1959 until 1982. The M151, M151A1, and M151A2 are a general purpose personnel or cargo carrier. Eventually manufacturing contracts were awarded to Kaiser and AM General Corp and well over 100,000 MUTTs of many variants produced.
Specifications :
| | |
| --- | --- |
| Manufacturer: | Ford, Kaiser, AM General Corp., GM USA |
| Years of Manufacture: | 1959 until 1982 |
| Number Manufactured: | 100,000 + |
| Occupants : | 1 x Driver, Up to 3 others |
| Dimensions : | |
| Length: | 11 ft (3.37 m) |
| Width : | 5.91 ft (1.8 m) |
| Height : | 6.17 ft (1.88 m) |
| Weight : | 2,447 lbs/1.2 US short tons (1,110 kg) |
| Performance | |
| Engine: | 1 x Ordnance Continental 4-cylinder gasoline, generating 71 hp @ 4,000 rpm |
| Maximum Speed : | 65 mph (105 km/h) |
| Maximum Range : | 273 miles (440 km) |
| Armament Depending on Mission : | 1 x 12.7 mm Browning M2 Heavy Machine Gun |
| | 1 x 7.62 mm M240G General Purpose Machine Gun |
| | 1 x TOW-2 Anti-Tank Guided Missile Launcher w/ 2 x TOW Missiles |
| | 1 x Recoilless Rifle |