Ground Power Series>1:72 die-cast display model>KV>HG3001
KV-1's Ehkranami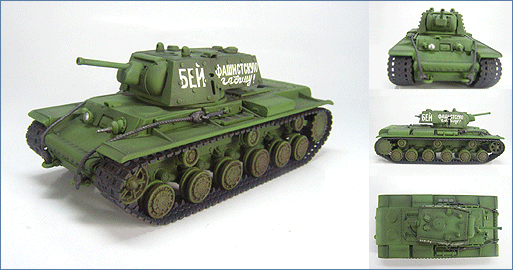 General Background
In 1939 the Red Army Command requested for a heavy breakthrough tank and the two-turret SMK was selected. After a radical re-design, the new tank was marked as the KV-1 heavy tank with one turret and it was armed with the higher velocity 76 . 2mm main gun.

In July 1941, the KV-1 underwent an upgrade of armor protection with " appliqued armor panels " applied . It was designated as the KV-1E ( Ekranami" means appliqued armor]. This modification along with a few others features brought the weight from 43 ton n es to 50 tonnes .

This particular tank has the patriotic slogan " Bey fashistkuyu gabinu! " painted on the turret which means "Crush the Fascist Vipers" .There are no official records with the exact number of KV-1Es produced.
Specifications :
| | |
| --- | --- |
| Crew : | 5 |
| Weight : | 47-50 tonnes |
| Length : | 6.75m |
| Width : | 3.32m |
| Height : | 2.71m |
| Amour : | 90mm |
| Main armament : | 76.2 mm F-32 gun with 111 rounds |
| Secondary armament : | 3 x 7.62 mm DT Machine Guns with 3024 rounds. Located coaxial, bow, turret rear |
| Power plant : | 12 cylinder diesel V-2 600 hp |
| Suspension : | Torsion bar |
| Road speed : | 35 km/h |
| Power/Weight : | 13 hp/tonne |
| Range : | 335 km |