Ground Power Series>1:72 die-cast display model>KV>HG3010
KV-1 Model 1941 12th Tank Regiment, Western Front, 1942 "Besposhadniy"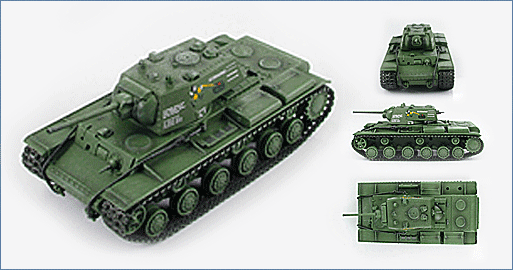 General Background
The KV-1 (M1941) early models came with a welded turret and eventually a cast turret with rounded corners. Both models came with 90mm thick hulls and extra 40mm plates bolted to the front and sides. This gave a total of up to 130mm front hull and the turret now was 92 - 110mm thick. All this extra armor increased the weight by 2 tons and ended up costing them speed and agility. The M1941 model now had more machine guns and a new main cannon.
Specifications :
| | |
| --- | --- |
| Crew: | 5 |
| Length: | 6.75 m / 22.15 ft |
| Width: | 3.32 m / 10.9 ft |
| Height: | 2.71 m / 8.9 ft |
| Weight: | 47 - 50 tonnes |
| Armour: | 90 mm / 3.54 in |
| Main Armament: | 76.2 mm (3 in) F-34 gun with 111 rounds |
| Secondary Armament: | 3 x 7.62 mm DT Machine Guns with 3024 rounds. Located coaxial, bow, turret rear |
| Powerplant: | 12-cylinder diesel model V-2 600 hp |
| Suspension: | Torsion bar |
| Road Speed: | 35km/h / 21.75 mph |
| Power – Weight Ration: | 13 hp/tonne |
| Range: | 335 km / 208 mi |