Ground Power Series>1:72 die-cast display model>M26>HG3206
70th Tank Battalion (Soixante-Dix), Korean War"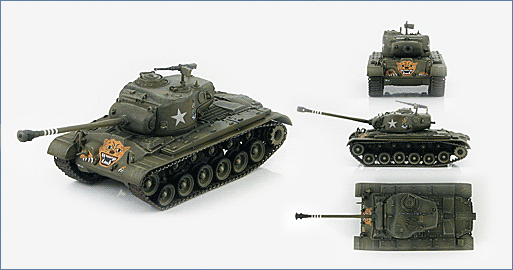 General Background
The M26 Pershing was developed at the end of WWII as the successor of the M4 Sherman. Weighing in at 46 tons with 127mm of armor, excellent agility and a 90mm M3 gun for its punch, the Pershing was a tank capable of standing up to the Panthers and Tiger I's. At the start of the Korean War the M26 was sent to combat the Soviet built T-34/85s. The M26 became the model for designing the M46, M48 and M60 tanks.
Specifications :
| | |
| --- | --- |
| Crew: | 5 (3 in turret – 2 in hull) |
| Weight: | 41.23 tons |
| Length: | 28 ft. 4 in. |
| Width: | 11ft. 6 in. |
| Height: | 9 ft 1 in. |
| Armament: | 90 mm M3 gun, 2 X .30 MG (1 co-ax, 1 bow) 1 X .50 AA |
| Armor: | 12.5 mm – 112.5 mm (on gun shield) |
| Powerplant: | V8 500 hp Ford GAN petrol |
| Maximum speed: | 30 mph |
| Range: | 100 miles |