Ground Power Series>1:72 die-cast display model>Centurion>HG3502
British Centurion Mk.5 10 Troop, C Squadron, 4th Royal Tank Regiment, West Berlin, 22 August 1961 "Die Hard"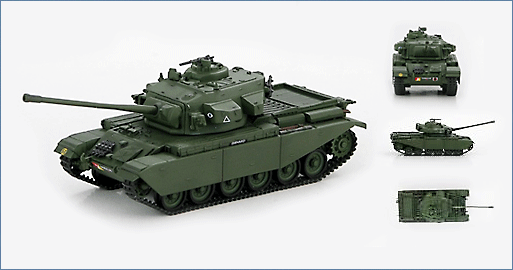 General Background
The Centurion Mk. I, the first of 13 variations was delivered to the British Army in 1949 with a 17-pound gun. The Mk. 3 went to war in Korea with a 20-pound main gun. After Korea came a NATO standardization program for ammunition so the 7.92mm coaxial machine gun was changed to 7.62mm and a bore evacuator installed on the main gun and it was re-designated Mk. 5. The next improvement was replacing the main gun with an L7 105mm and an additional 2-inch armored plate on the front and this became the Mk. 6.
Specifications :
| | |
| --- | --- |
| Number manufactured: | 4,423 |
| User countries: | 16+ |
| Engine: | 1 X gasoline Rolls-Royce Mk. IVB 12 cylinder liquid-cooled producing 650 hp at 2550 rpm |
| Maximum speed: | 34 km/h (21.1 mph) |
| Fuel capacity: | 10,371 L (2,740 US gal) |
| Range: | 190 km (118 mi) |
| Armament: | 105 mm main gun – 64 rounds |
|   | 7.62 mm MG coaxial – 4,750 rounds |
|   | 12.7 mm MG (Commander's cupola) – 600 rounds |
|   | 2 X 6 smoke grenade dischargers |
| Combat weight: | 51.82 t (114,243 lb) |
| Length: | 7.823 m (25.66 ft) excluding the gun (9.854 m (32.3 ft) with gun) |
| Width: | 3.39 m (11.12 ft) |
| Height: | 3.009 m (9.87 ft) |
| Armor: | maximum 152 mm (5.98 in) |
| Crew: | 4 |