Ground Power Series>1:72 die-cast display model>Centurion>HG3514
Australian Centurion Mk.5/1 169041, RAAC "War of Vietnam"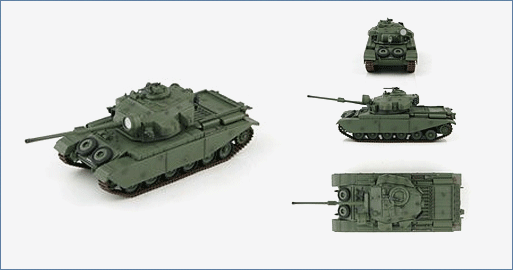 General Background
The Centurion Mk. I, the first of 13 variations was delivered to the British Army in 1949 with a 17-pound gun. The Mk. 3 went to war in Korea with a 20-pound main gun. After Korea came a NATO standardization program for ammunition so the 7.92mm coaxial machine gun was changed to 7.62mm and a bore evacuator installed on the main gun and it was re-designated Mk. 5. The next improvement was replacing the main gun with an L7 105mm and an additional 2-inch armored plate on the front and this became the Mk. 6.
Specifications :
| | |
| --- | --- |
| Type: | 4 / Commander, Gunner, Loader, Driver |
| In service: | mainly from 1945 to 1990's with some still in service |
| Dimensions: | |
| Length: | 7.60 m (25 ft) |
| Width: | 3.39 m (11 ft 1 in) |
| Height: | 3.01 m (9 ft 10.5 in) |
| Weight: | 51 long tons (52 metric tonnes) |
| Suspension: | Horstmann |
| Armour: | 152 mm (6 in) |
| Armament: | Primary – 105 mm L7 rifled gun |
|   | Secondary – co-axial .30 cal Browning machine gun |
| Performance: | |
| Engine: | Rolls-Royce Meteor / 650 hp (485 kW) |
| Power/Weight: | 13 hp/tonne |
| Range: | 450 km (280 miles) |
| Speed: | 34 km/h (21 mph) |