Ground Power Series>1:72 die-cast display model>M46>HG3704
M46 Patton 73rd Tank Battalion, Korea 1951 "Tiger Face"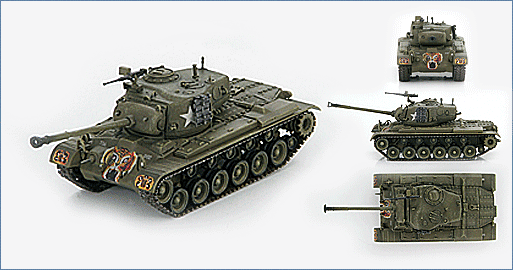 General Background
The M46 Patton tank was named after US General George S. Patton Jr. It basically was an improved M26 Pershing and was meant to replace the M26 and M4 Sherman. 800 of the M26s were converted to M46s and received a new more powerful engine and transmission with rearward-facing fender mounted mufflers and a main gun with a bore evacuator. The M46s made up 15% of the tank force in Korea and proved superior to its T34/85 counterparts.
Specifications :
| | |
| --- | --- |
| Crew: | 5 men |
| Dimensions: | |
| Length chassis only: | 20' 10" |
| Width: | 11' 6" |
| Height: | 9' 3" |
| Weight (combat): | 48.5 tons |
| Performance: | |
| Engine: | (M46) Continental 810 hp gasoline |
| | (M46A1) AV-1790-5B engine and CD-850-4 transmission |
| Maximum speed: | 31 – 37 mph |
| Range: | 80 miles |
| Fording depth: | 4' 0" |
| Vertical obstacle: | 3' 0" |
| Trench crossing: | 8' 6" |
| Armament: | |
| Main gun: | 1 X 90 mm – 70 rounds |
| Armor penetration: | 195 mm at 1,000 yards |
| Machine guns: | 2 X .30 caliber – 5,000 rounds, 1 X mounted in the bow, 1 X coaxially with the main gun |
| | 1 X .50 caliber – 550 rounds, anti-aircraft gun mounted on top of the turret |
| Armor: | Turret front – 102 mm |
| | |
| | Everywhere else – a minimum of 13 mm |