Ground Power Series>1:72 die-cast display model>M7>HG4702
M7 HMC Priest 2nd French Tank Division, July 1944 "URANUS"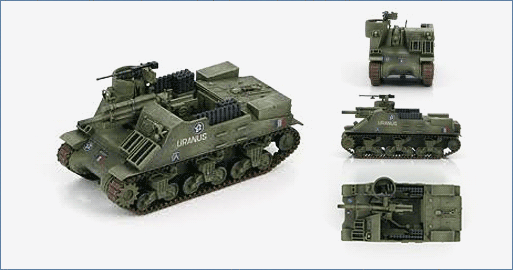 General Background
The U.S. Army required a fully-tracked Howitzer Motor Carriage capable of keeping up with armored divisions. The lower chassis and suspension of the M3 Lee and later the M4 Sherman was selected to have a 105mm Howitzer placed on top with a crew area open to the elements. In 1942 the new SPG was delivered as the M7 HMC (Howitzer Motor Carriage). British forces referred to the M7 as the "Priest" because of the high rounded .50- caliber Machine Gun position resembled the pulpit of an Anglican priest.
Specifications :
| | |
| --- | --- |
| Type: | Armored Artillery |
| Crew: | 7 |
| Performance: | |
| Engine: | Continental R975 C1, 9 cylinder., Gasoline 400 hp |
| Maximum Speed: | 39 km/h |
| Power/weight: | 17.3 hp/t |
| Range: | 190 km |
| Dimensions: | |
| Length: | 6.02 m |
| Width: | 2.87 m |
| Height: | 2.95 m |
| Weight: | 23000 kg |
| Armor: | |
| Maximum: | 108 mm |
| Minimum: | 13 mm |
| Suspension: | Vertical volute spring suspension (VVSS) |
| Armament: | Main - 1 x 105 mm Howitzer M2A1 |
| | Secondary - 1 x .50cal (12.7 mm) M2HB MG |