Ground Power Series>1:72 die-cast display model>M36>HG5402
M36 Jackson US Tank Destroyer 703rd Tank Destroyer Battalion "Battle of Bulge"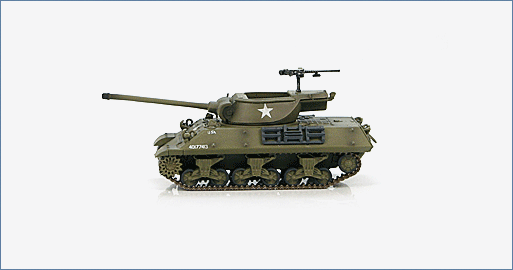 General Background
The M36 Jackson GMC (Gun Motor Carriage) was a tank destroyer developed by first using the standard M10 chassis with a new open-top turret capable of handling a larger 90 MM M3 gun. The open-top reduces weight and allows for better observation but like the M10 leaves the crew exposed to enemy fire. To offset the weight of the 90 mm gun a bustle counterweight was added to the turret rear and was capable of holding eleven rounds of ammunition. Over 1,700 M36s were produced in 3 variants.
Specifications :
3 Variants:
M36, Jackson
M36B1, Jackson
M36B2, Jackson
Manufacturers:
M36:
Fisher Tank Arsenal, Ford Motor Co., Massey Harris Co., American Locomotive Co., Montreal Locomotive Works
M36B1 and M36B2:
American Locomotive Co., Montreal Locomotive Works
Role and Chassis Used:
M36 - Tank Destroyer (based on M10A1 GMC)
M36B1 - Tank Destroyer (based on M4A3(75)W Sherman)
M36B2 - Tank Destroyer (based on M10 GMC)
Production:
M36 – 1,413 (April 1944 – July 1945)
M36B1 - 187 (October 1944 – December 1944)
M36B2 - 724 (April 1945 – May 1945)
Crew - All 3 variants:
5
Commander - Turret - Rear-right corner
Gunner - Turret - Front-right corner
Loader - Turret - Rear-left corner
Driver - Hull - Front-right corner
Assistant driver - Hull - Front-left corner
Weights:
M36 - Combat 63,930 lbs (29,000 kg)
M36B1 - Combat 68,340 lbs (31,000 kg)
M36B2 - Combat 64,150 lbs (29,100 kg)
Dimensions:
M36 - Length without guns 19.59 ft (5.97 m))
M36B1 - Length without gun & with sand shields 20.67 ft (6.30 m)
M36B2 - Length without guns 19.59 ft (5.97 m)
M36 - Gun overhang 4.89 ft (1.49 m)
M36B1 - Gun overhang without muzzle brake 3.84 ft (1.17 m)
M36B2 - Gun overhang 4.89 ft (1.49 m)
M36 - Length with gun 24.48 ft (7.46 m)
M36B1 - Length with gun 24.51 ft (7.47 m)
M36B2 - Length with gun 24.48 ft (7.46 m)
M36 - Width 10.01 ft (3.05m)
M36B1 - Width with sand shields 8.76 ft (2.67 m)
M36B2 - Width 10.01 ft (3.05m)
All 3 variants:
Height to top of AA Machine-Gun 3.28 m
Armament: (All 3 variants)
90 mm Main Gun M3, M4 mount in turret with 47 rounds (11 ready)
.50cal (12.7 mm) M2HB Machine-Gun, Mount: Flexible in turret AA mount with 1,000 rounds
M36B1 also has
1 - .30cal (7.62 mm) M1919A4 Machine-Gun
Ball mount on the front upper armor plate with 1,000 rounds
All 3 variants also carry
5 - .30cal Carbines M1 with 450 rounds
12 - grenades
4 - smoke pots
Powerplant:
M36 and M36B1
1 - Ford GAA, V8 cyl., 18.0L of displacement, 450-500 hp @ 2,600 rpm
Fuel - Gasoline (727 L)
Transmission - Synchromesh, 5 forward speeds & 1 reverse speed
M36B2
2 - General Motors 6046, 12 cyl. (6/engine), 2 cycles, twin in-line, 13.9 L of displacement, 375-410 hp @ 2,100-2,900 rpm
Fuel - Diesel (625L)
Transmission - Synchromesh, 5 forward speeds & 1 reverse speed
Performance:
M36 and M36B1
Maximum Speed on road – 26 mph (42 km/h)
Range on road – 154.7 miles (249 km)
M36B2
Maximum Speed on road – 24.9 mph – 29.8 mph (40-48 km/h)
Range on road – 200 miles (322 km)