Ground Power Series>1:72 die-cast display model>M60>HG5606
M60A1 w/reactive armor USMC 525012 "Operation Desert Storm"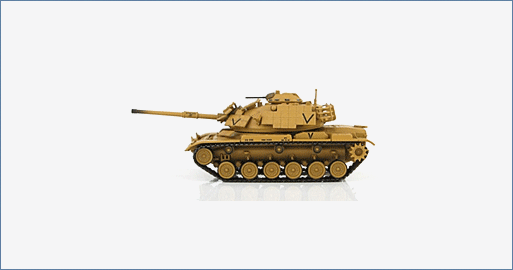 General Background
The M60 was initially introduced in 1960 and often incorrectly referred to as a Patton. The M60 resembled the M48 because it was based on the M48 but with some significant alterations and improvements. M60 has a 105mm Main Gun while the M48's was 90mm and the front slope was straight compared to the M48's rounded front plus other modifications. The M60 was the last U.S. tank to use homogenous steel as well as an escape hatch in the floor for the driver.
Specifications :
Role:
Main Battle Tank (MBT)
Production Dates:
1960-1987
Number Produced All Variants:
Over 15,000
M60 - A total of 2,205 M60s were built
M60A1 - A total of 7,948 M60A1s were built
M60A2 - 540 M60A2s were built

Year First Introduced:
Over 15,000
M60 – 1960
M60A1 – 1962
M60A2 – 1974
M60A3 – 1979
Crew:
4 X Commander, Driver, Gunner, Loader
Dimensions:
Length:
M60 – 30.5 ft (9.3 m)
M60A1 – 31 ft (9.4 m)
M60A2 – 24.1 ft (7.3 m)
M60A3 – 31 ft (9.4 m)
Width:
M60 – 11.9 ft (3.6 m)
M60A1 – 11.9 ft (3.6 m)
M60A2 – 11.9 ft (3.6 m)
M60A3 – 11.9 ft (3.6 m)
Height:
M60 – 10.5 ft (3.2 m)
M60A1 – 10.5 ft (3.2 m)
M60A2 – 10.9 ft (3.3 m
) M60A3 – 10.5 ft (3.2 m)
Weight:
M60 – 50.5 tons (45.8 mt)
M60A1 – 57.6 tons (52.2 mt)
M60A2 – 57 tons (51.7 mt)
M60A3 – 57 tons (51.7 mt)
Performance:
Powerplant:
1 X Continental AVDS-1790 Turbo Super Charged Fuel Injected 90° V-12 Cylinder Air-Cooled Diesel Producing 750 hp (559 kw)
Transmission:
Detroit Diesel Allison CD850 Series 2-Speed Forward, 1 Reverse
Road Speed:
30 mph (48 km/h)
Range:
310 miles (500 km)
Armament:
M60 – 105 mm M68 Rifled, Typical Load 63 APFSDS-T, APDS-T, APERS-T, HEAT
M60A1 – 105 mm M68 Rifled, Typical Load 63 APFSDS-T, APDS-T, APERS-T, HEAT
M60A2 – 152 mm M162 Gun-Launcher, 13 Shillelagh Guided Missiles, 33 Conventional Rounds HEAT-MP, HE
M60A3 – 105 mm M68 Rifled, Typical Load 63 APFSDS-T, APDS-T, APERS-T, HEAT

Machine Gun:
M60 – 7.62 mm M73 6,000 Rounds, Coaxial To Main Gun
M60A1 – 7.62 mm M73 6,000 Rounds, Coaxial To Main Gun
M60A2 – 7.62 mm M219 6,000 Rounds, Coaxial To Main Gun
M60A3 – 7.62 mm M240 6,000 Rounds, Coaxial To Main Gun

M60 - .50 cal M85 Machine Gun, 900 Rounds Turret Cupola
M60A1 - .50 cal M85 Machine Gun, 900 Rounds Turret Cupola
M60A2 - .50 cal M85 Machine Gun, 900 Rounds Turret Cupola
M60A3 - .50 cal M85 Machine Gun, 900 Rounds Turret Cupola